Read Time:
2 Minute, 33 Second
All You Need To Know About London's Notting Hill Carnival 2014
Once a year, the streets of West London become a pulsating, colourful display of dancers as costumed performers sashay through the city for the Notting Hill Carnival. Europe's biggest street festival is hitting the capital again this year, with the Notting Hill Carnival 2014 promising to bring those infectious Caribbean vibes to London once more. Take a look at essential information for this year's event below.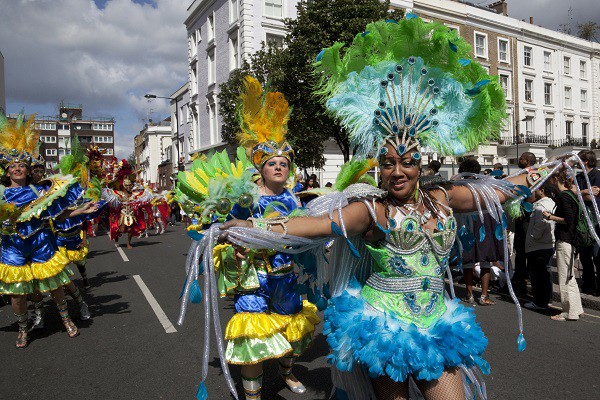 Why should I experience the Notting Hill Carnival 2014?
If feel-good vibes, dazzling costumed performers and catchy Caribbean tunes sound like something you'd be interested in, the Notting Hill Carnival is definitely for you. Celebrating multiculturalism in London, the Carnival has coloured the streets of the city since 1966. Alongside the music and dancing, you'll also find street food stalls selling mouth-watering Caribbean cuisine including jerk chicken, curried goat and fresh fruit punch.
When is the Notting Hill Carnival 2014 taking place?
The Carnival takes place over three days: Saturday 23 August, Sunday 24 August and Bank Holiday Monday August 25 2014. The Saturday is an evening event showcasing Caribbean rhythm and steel bands and the Sunday Carnival is family day which features a special children's parade and a number of events to keep kids happy throughout the day.
The Bank Holiday Monday is an altogether rowdier affair as hundreds of performers and musicians make their way through Notting Hill and Ladbroke Grove to the sound of infectious tropical beats.

Where is the Carnival and how can I get there?
The Notting Hill Carnival route begins and ends at Canal Way, Ladbroke Grove, W14. The Carnival begins at 9 AM on both Sunday and Monday with after parties lasting long after the procession has finished.
With thousands of people travelling to and from the Carnival, there will be a few closures and changes to public transport in the area.
It's best to double check before you travel and use TfL's journey planner to plot your route. For example, Notting Hill Gate, Royal Oak and Westbourne Park tube stations will be exit only between 11 AM and 6 PM on both Sunday and Monday and Ladbroke Grove will be closed both days.
Top Notting Hill Carnival Tips
Wear comfortable clothes that you don't mind getting a bit grubby. Think colourful, bright clothing to get you in the happy Carnival mood!
Be aware of pickpockets and avoid taking too many valuables out with you.
Mobile phones may lose signal due to so many people being in one area, so make sure you designate a meeting place in case you get split up with fellow Carnival-goers.
Take water with you – once the beat takes over you'll be on your feet for a while!
Toilets can be few and far between so make sure you know where they are beforehand.
The experts know best so be prepared and check out some insider tips from a Notting Hill Carnival dancer.