Read Time:
6 Minute, 43 Second
Love it or hate it, Valentine's Day is around the corner and London is soon to be brimming with a plethora of hearts, roses and an unapologetic dose of soppiness. Are you a fan? Do you revel in this celebration of all things love? Or is it one of those days that you simply love to hate? Well, we've got you covered – regardless of whether you're a romantic or a cynic. Here's our pick of some of the best things to do in London… for couples, singletons and millennial Palentine's and Galentine's Day enthusiasts.
Coupled up?
There's no shame in loving love, we get it (sort of). So if you like to go big or go home when it comes to V-Day you're spoilt for choice – get ready, as love is in the air.
Go on a romantic sightseeing bus tour
London can be a sight for sore eyes, so why not feel all the feels on this very picturesque evening trip around the British capital? See how the city's prettiest sights get dressed up for the night and stay cosy with the blankets provided. And with every couple on board receiving a box of chocolates and a red rose while being serenaded by a live singer, surely this ticks all the right boxes?
Perfect for: The ultimate romantic.
Avoid if: You would rather be indoors – no matter how much love there is in the air, London is usually a chilly one on 14 February.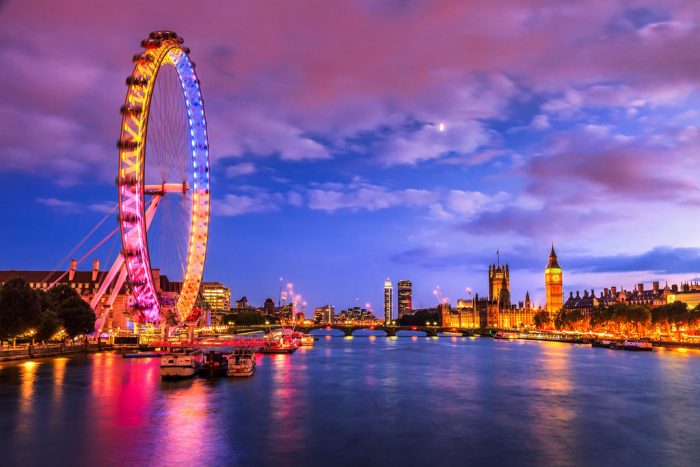 Have afternoon tea on a bus
Once a Victorian tradition, the oh-so-British ritual that is afternoon tea has had many a glitzy millennial makeover. So why not combine this iconic light meal with a ride through the best views of London? Our afternoon tea bus has gone the extra mile for this upcoming Valentine's Day – as well as the usual afternoon tea spread, attendants will also get a rose and a glass of Prosecco.
Perfect for: Couples as well as families and friends – because everyone loves to bond over scones and cakes, right?
Avoid if: You don't think it's possible to have tea and scones with a side of romance (your loss).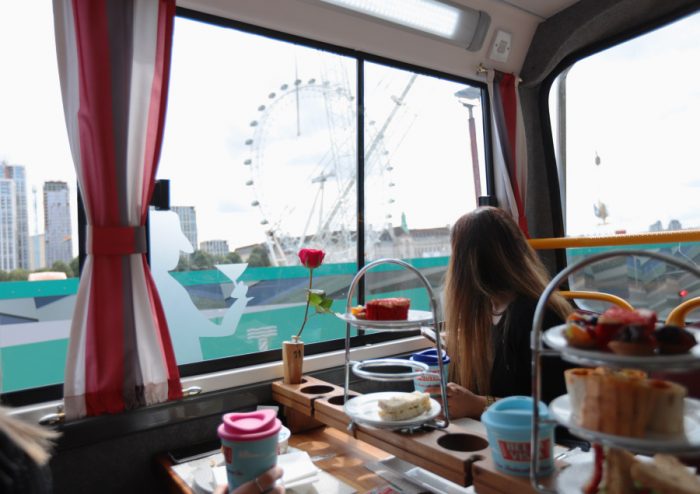 Have the London Eye (almost) to yourself
Did you know you can hire out one of the London Eye's 32 capsules? Europe's tallest Ferris wheel's Cupid Capsule Ticket includes a bottle of champagne, pink champagne truffles and, of course, incredible views of the British capital.
Perfect for: Let's face it – these dizzying heights would make the perfect backdrop to some serious question popping…
Avoid if: You're seriously afraid of heights. Or run the risk of getting no for an answer when proposing – as you'll have to wait for the 30-minute ride to be over. Awks.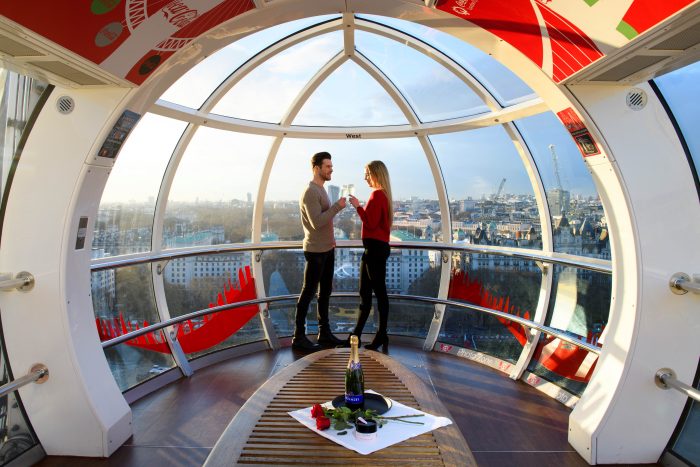 Whisk yourself and your loved one to the city of love
The food, the streets, the river Seine, the world's most famous tower… there's a reason Paris is always a good idea and makes for the perfect day or weekend getaway. Take your pick from our many Eurostar offers and fall in love (perhaps all over again) with this dreamy French city.
Perfect for: Next level romance that involves switching the hustle and bustle of London for that je ne sais quoi feeling one gets in Paris.
Avoid if: You don't want to risk feeling like you never want to get back on the Eurostar to London (we wouldn't blame you if you did).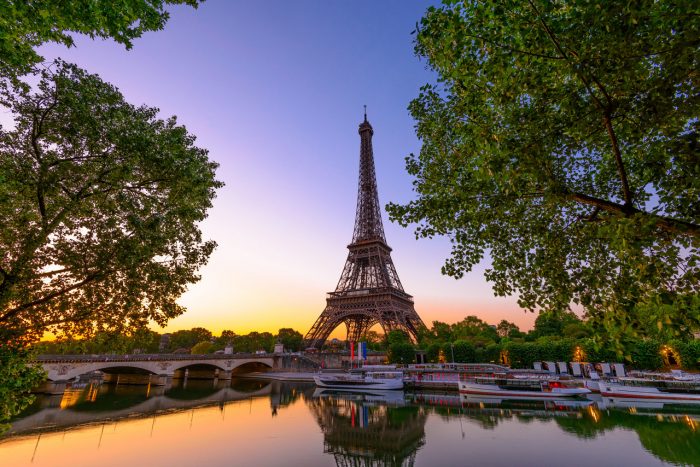 Single?
As tempting as it may be to A) sit on your sofa in your pyjamas and sing along to "All by Myself" (sounds familiar?), and/or B) hate on this day for leaving out single people and the commercialisation of love, believe us when we say that there are plenty of quirky, fun and interesting ways to defy the mushiness with your gals, pals and even dogs come the weekend of 14 February. Rebelling has never looked this good…
Get ready to mingle… with cute pups
In a serious relationship with your pooch? Or are you a dog lover that can't think of anything better than being surrounded by painfully cute dogs? If you answered yes to at least one of these questions you won't want to miss the chance to ogle at French Bulldogs and Cockapoos at The Allegory Bar's pop-up event on Sunday the 9th of February. Bring your furry other or simply yourself for a day of food, drink and utter paw-fection (sorry, we had to).
Perfect for: Dog lovers, French Bulldog lovers, Cockapoo lovers, cute aggression lovers… the list goes on.
Avoid if: Unless you have a serious allergy to French bulldogs or cockapoos, why on earth would you NOT want to go to this paw-tastic event (again, we had to)?
Have art therapy at a feminist workshop
What started off as a fictional, unofficial holiday in an episode of the American sitcom Parks and Recreation has now become a much-needed reality a decade later – Galentine's Day is the perfect excuse to celebrate women and female friendship. This very much ties in with Arts Sisterhood UK, a non-profit organisation that offers affordable art therapy while also aiming to empower women. For the 13th of February (Galentine's Day's unofficial date) it'll be hosting a therapeutic art workshop and open discussion around the subject of feminism. With cocktails and girl power songs thrown into the mix, this event promises to be an inspiring and fun evening.
Perfect for: Women from all walks of life who are looking to celebrate the act of women supporting women while making friends along the way too.
Avoid if: Sorry boys, this event is just for ladies.
Dance a ceilidh at Cutty Sark
A traditional Scottish and Irish dance gathering in an English ship? As bizarre as that sounds, Cutty Sark is known for being one of the best ceilidh venues in London thanks to its long and narrow shape. It's guaranteed to be ridiculously fun – and who knows, you might cross paths with (or trip over) a special someone as you dance the night away…
Perfect for: Those who love, as the Irish say, a good craic.
Avoid if: You're prone to taking a ceilidh a little too seriously – this is a joyous night out, not a dance-off.
Have an unapologetically girly night out
Because sometimes all you need are cocktails, blow-dries, manicures, photo booths and classic tunes on demand, and the glitzy venue that is Winterland (which magically transforms itself into Neverland in the summer) will be hosting just that – a night of pampering and fizz. Sisters before misters, as they say (but couples are welcome too).
Perfect for: Getting your dose of some good old-fashioned girlishness.
Avoid if: You haven't got what it takes to take part in a big old power ballad sing-along.
Watch stand-up comedy in central London
If there's one celebration that comedians can really go to town on, it's Valentine's Day. So it comes as no surprise that award-winning stand-up association Comedy Carnival hosts its very own Valentine's Day Comedy Show and Dinner – this year's headline act is Lee Nelson creator Simon Brodkin. And even though this offer includes a pre-show dinner for two, there's no reason why you and a pal can't treat yourselves to a night of food, drinks and unadulterated laughter in the name of Palentine's Day.
Perfect for: People who don't take Valentine's Day (or much else for that matter) too seriously.
Avoid if: You think you can answer back at a comedian – things could get awkward.