Read Time:
3 Minute, 12 Second
As Halloween looms and the mood begins to turn dark, celebrate everything fearsome and frightening with a perfectly planned Halloween party. Our top five picks of the best Halloween party games are suitable for all ages, but with just a few variations they can be made a little more spirited!
1. Dangerously Devilish Dress-Up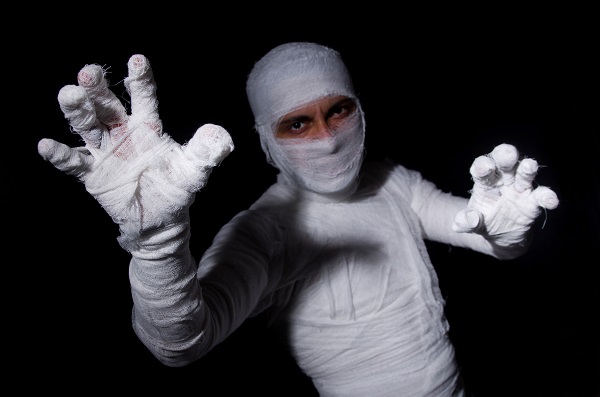 A costume competition will get guests in the Halloween mood before arriving as they preen and plan their outfit.
For adults, themed costume parties can help make sure you don't get the same unimaginative mob of ghosts and vampires – there are numerous themes that can help make your party unique.
Voting for the best outfit and trying to work out the bizarre ones is always entertaining!
2. Petrifying Piñata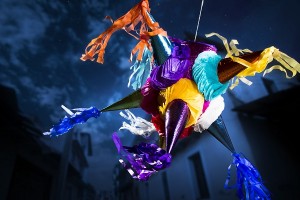 Ride the sugar rush and get moving with a treat-filled Halloween style piñata. A Mexican tradition that has spread across the globe, piñatas come in all shapes and colours and are perfect as an alternative Halloween party game. It's best to hang this short-lived decoration outside, or make sure any breakable ornaments are hidden before handing a party attendee a blindfold and bat! The simplest of games – whack away until the cardboard breaks apart and the sweets tumble onto the floor. Guests can munch on these and stock up on expelled energy!
3. A Wicked Work Of Art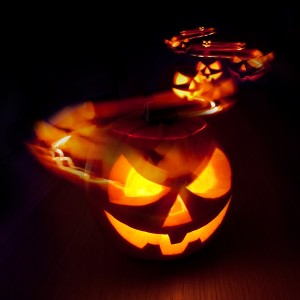 Calm down after piñata mania with some creative pumpkin carving. A classic Halloween pastime that never gets old, carving your own friendly or freaky Jack-o'-Lantern face is an essential All Hallow's Eve activity.
Give your ghoulish guests the opportunity to design their own throughout the night, and soon you'll have a collection of eerily grinning orange faces.
Provide younger children with mini pumpkins and some arts and craft decorations – it's probably best to avoid real blood being spilled on Halloween!

4. Bloody Worm Bobbin

g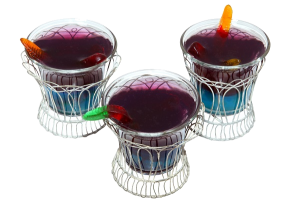 No party would be complete without a game where guests have the opportunity to get a bit messy. A twist on the traditional apple bobbing, bloody worm bobbing doesn't ruin painted faces and looks a lot more gruesome. Fill two large bowls with red jelly and 6-10 gummy worms and leave to set. Give two participants a minute to retrieve as many worms as possible using just their mouths – the winner is the person with the biggest worm haul.
If it's an adult only party, adding some vodka to the jelly in place of water can spice things up. The loser can then 'down' the jelly as punishment!
5. Pass The Pumpkin
Some of the best Halloween party games are old favourites with a spooky twist. Pass the pumpkin changes one element of the classic pass the parcel game – the clue's in the name. A hollowed out pumpkin is stuffed with sweets or prizes and passed around a circle to creepy music. Kids usually know this game so it doesn't take much organisation if catering for a younger crowd.
If sweets as prizes sound a bit dull and the guests are old enough, a pumpkin full of written down dares or forfeits works well too. This keeps in the 'trick or treat' spirit of Halloween!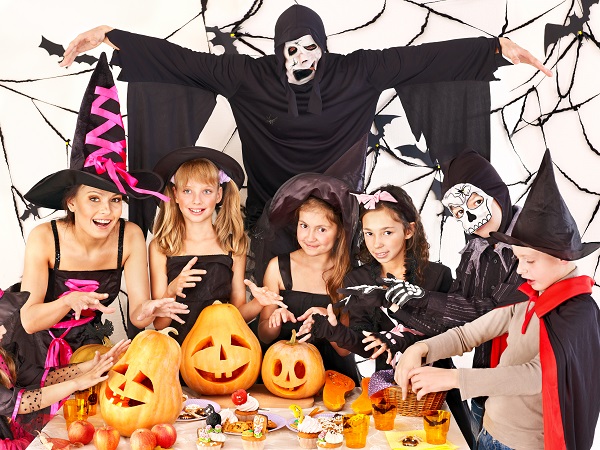 Halloween party games don't have to be complicated or time consuming and the simpler the better. Small alterations can turn the most dated games into fiendishly good fun – suitable for any zombie, goblin or ghoul!
Got any bewitchingly good ideas of your own? Share with us below!
Love all things spine-tingling? Have a look at this exclusive Haunted Bus Tour of London – a guided ghost tour that exposes the city's grim history with tales of dismemberment, decapitation and roaming spirits! Available this Halloween from 28th – 31st October 2016.