Read Time:
7 Minute, 36 Second
Pancake races, fluffy short-stacks, cocktails and as much whipped cream as you can stand. Pancake Day has come around again, the time of year where our gluttonous side takes over and we eat as many pancakes as we can, for reasons no one really understands. Here are our best events, cafes and restaurants in London for Pancake Day 2020.
FYI: Pancake Day or Shrove Tuesday is associated with pancakes in some countries as it is the day before the Christians traditionally fast for 40 days. It is a way of using up rich foods like eggs, milk, butter and sugar, all denied during Lent. For most of us these days it's just an excuse to scoff as many pancakes as we can!
Most of us go sweet on Pancake Day, but we can all do lemon and sugar or Nutella at home. Head out this February for an indulgent treat at some of London's best pancake eateries.
Right, now, these are some serious pancakes. Their batters are made fresh every day using organic flour and buckwheat, high welfare eggs and are packed full of vitamins and proteins, but please don't worry about these pancakes being 'good for you'. Try the Forest Berries; one or two deliciously fluffy pancakes, with berry compote, house cream, crushed violet meringue and toasted almonds, or the Hummingbird; cinnamon pineapple, house cream, lime syrup, pomegranate and toasted coconut. The 3-in-1 batter option for all pancakes is vegan, dairy and wheat-free so you can bring anyone here!
This Pancake Day Where The Pancakes Are are celebrating 5 year since they began as a pop-up. They'll be opening from 7:30am – 9:30pm and joining forces with Flat Iron Square and their Après Ski Lodge. A three-legged pancake flipping race will be held, with free pancakes and bubbles awarded to the fastest duo!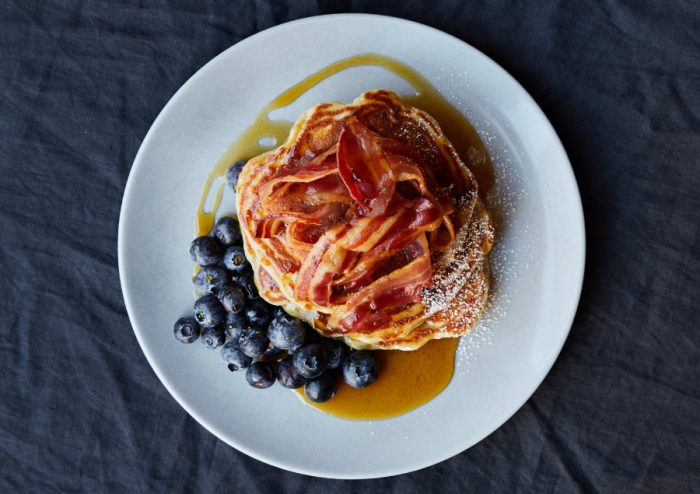 Our obsession with Japanese food continues as the heavily Instagrammable soufflé pancakes at Fuwa Fuwa have taken London by storm. How are they different to our UK pancakes? The chef separates they egg yolks and whites, chills and whips the whites, then gently folds in the yolks and other ingredients. Extravagant toppings include; salted caramel, miso and popcorn, banana and Nutella, honeycomb butter, and yuzu cheesecake. They'll be serving their special Red Velvet Pancakes topped with chocolate sauce this Valentines Day, and bear in mind, these intricate pancakes need to be cooked slowly from scratch so be prepared to wait for up to 20 minutes for these indulgent treats.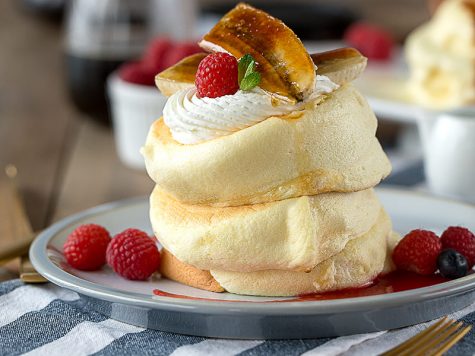 This cafe specialises in savoury and sweet classic Austrian dishes. Go for two courses and start with the Wiener schnitzel or the spinach dumplings with organic mountain cheese, then move on to the pancakes. Traditional Austrian Kaiserschmarrn, a fluffy shredded pancake with raisins and apple compote, or Marillen Palatschinken – apricot pancakes served with whipped cream on top of organic vanilla ice cream. With its simplistic and relaxing interior, Kipferl suggests sitting on your own with a "kleiner Brauner, reading a newspaper for hours, or have a "three course dinner with friends in the evening". There's also a great selection of self-imported fine Austrian wines and beers.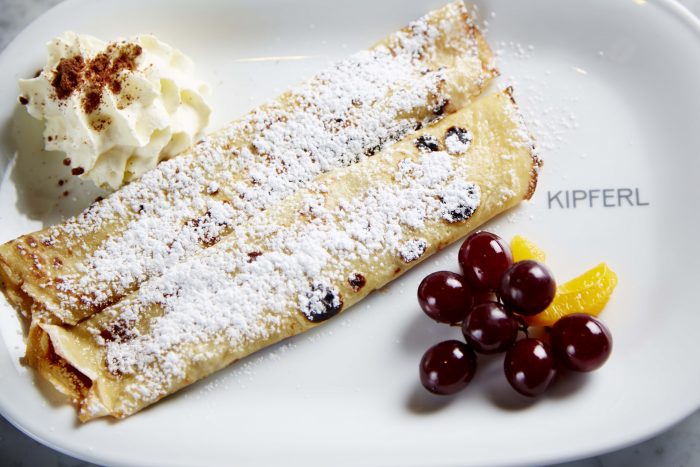 Pancake Day Events in London
Make your way over to the beautiful Greenwich Market for their Flippin' Good Pancake Race from 11am on Saturday 22nd February and 12pm on Shrove Tuesday 25th February. There are plenty of medals to be won and pancakes will be served all day both days. Fancy dress is optional and donations can be made to The Greenwich & Bexley Community Hospice, and everyone who dresses up and enters gets a free pancake!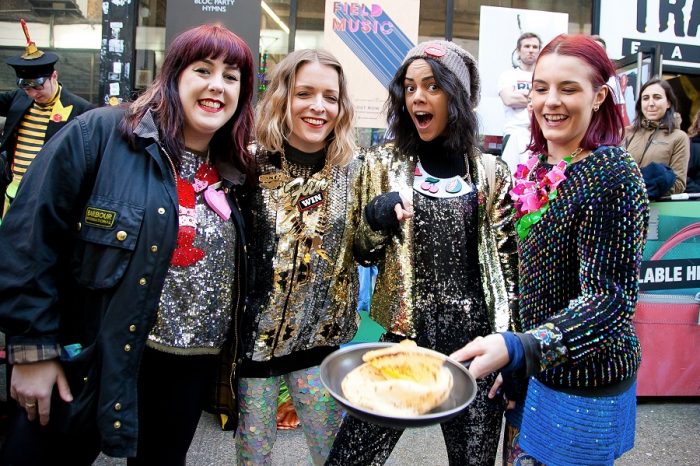 Long Bar at Sanderson Hotel in Fitzrovia has come up with their own way to celebrate Pancake Day with their own signature cocktail. Sitting in their genuinely long bar, some 80 feet in length, this opulent setting is the perfect place to sip their new cocktail exclusively for Shrove Tuesday, and enjoy all the flavours of a pancake with hints of gingerbread and cinnamon.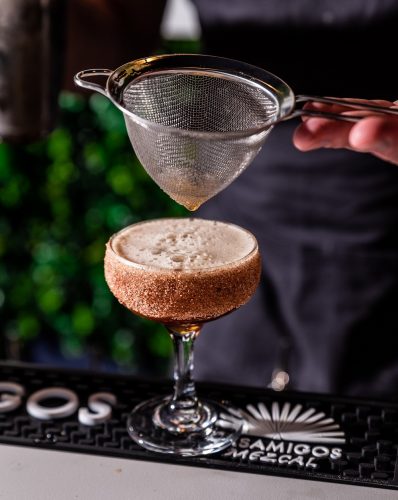 The Book Club is setting the bar very high yet again this Pancake Day. Historically, The Book Club has queues around the block on Pancake Day with people hungrily waiting to get their hands on the cocktail themed pancakes. Bringing a taste to summer to this miserable winter weather, The Book Club will be serving Pornstar Martini, Pina Colada and Espresso Martini inspired pancakes between 9:00am and 10:00pm on Tuesday 25th February.
Over at their sister venue around the corner, The Queen of Hoxton will have a 'make your own pancake' station where you can customise your own, before heading up to the Wizard of Oz themed winter rooftop for a £5 cocktail!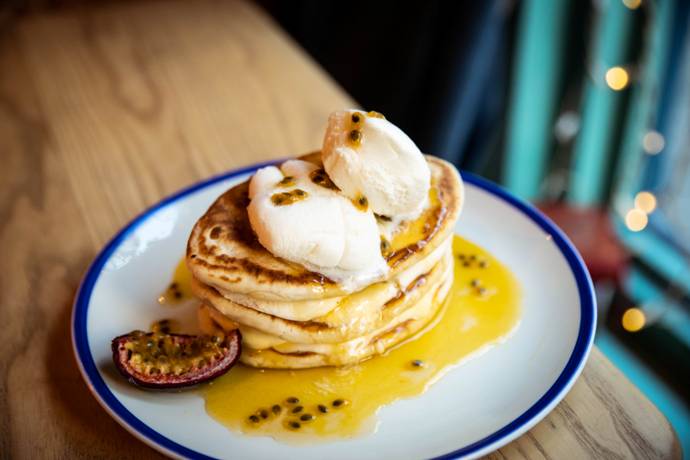 The Best Pancake Day Bottomless Brunches
Duo, Camden
Brunch spot/nightclub Duo in Camden is spread over two floors, with a sleek restaurant and bar upstairs and a club in the basement. Join them this Pancake Day for unlimited prosecco and pancakes with toppings including bacon, berry compote and chocolate sauce all to the tune of the best 80's RnB, for £35.00 per person.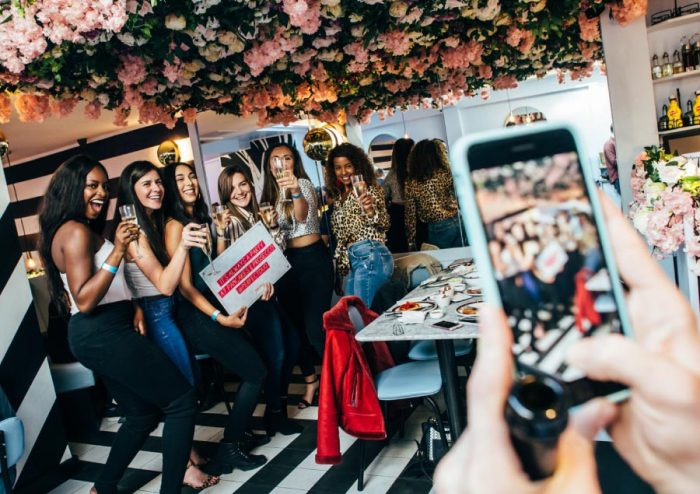 Hotbox, Aldgate East
You've got two hours to drink as many proseccos, mimosas, or cocktails as you can for £25! Challenge accepted. Soak up the food with wide selection of Texan BBQ dishes including chicken waffles, and of course, buttermilk pancakes with brûlée bananas, blueberries and Chantilly cream.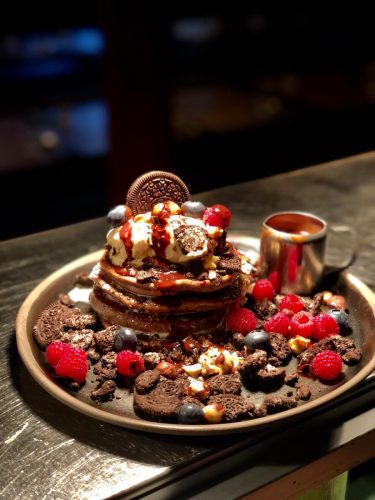 Possibly some of the most reasonably priced fun you can have in London, Darcie & May offer a bottomless brunch for £39.50. You can choose one savoury dish AND one sweet dish plus 100 minutes of bottomless prosecco, mimosas and Four Pillars Bloody Gin Mary's. Combine a fancy bacon roll and buttermilk blueberry pancakes, or sweet corn fritters and a banana bread sandwich.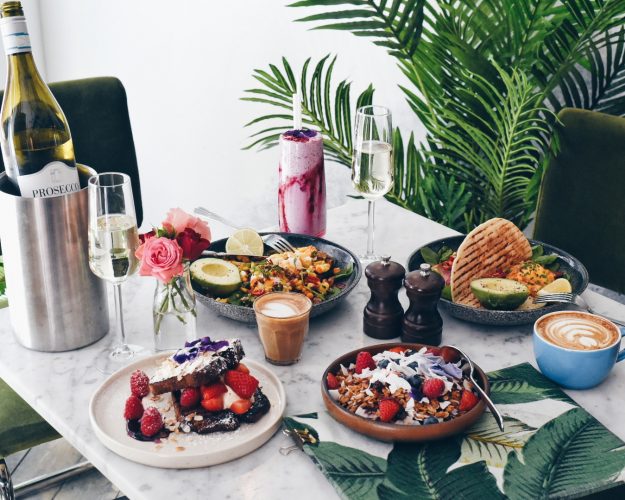 Where to Find the Best Savoury Pancakes in London
If you're lacking a sweet tooth but still want to celebrate, buck the trend and seek out some of the best savoury pancakes in London.
Nestled away on the Lower Clapton Road is Le Merlin, a Bretagne crêperie serving piping hot parcels of joy. Order some classic Brittany cider (dry or sweet) and drink out of traditional bowls while perusing the galette menu. The simple yet charmingly small interior is a great place for people watching and the small garden out the back is gorgeous in summer. If you spent your childhood summers in Brittany, you'll remember the glistening golden savoury galettes as the perfect light meal. Le Merlin has got about 15 savouries to choose from on rotation, most of which are under £10. Try the Portobello mushroom with grated gruyere, garlic butter, a fried egg, and crushed hazelnuts or the smoked salmon, goat cheese, baby spinach and balsamic cream. They also have an impressive sweet list.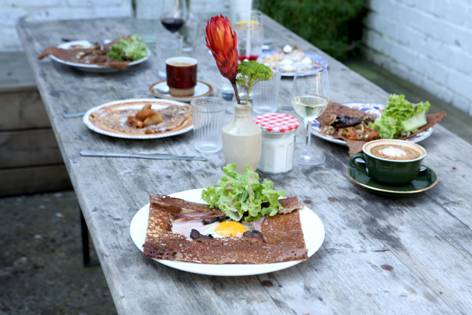 If you've ever been to Hampstead and seen a massive queue by the King William IV pub, you've missed out of La Creperie De Hampstead. Open between 11:45am and 11:30pm 7 days a week, the basic yet delicious crepes from this 35 year old, established food truck are worth the queue. The sweet choices are well worth a look, but for a filling snack on the go order one of their savouries. Try the oozing mushroom, garlic and cheese, classic ham and cheese, or the filling ratatouille, ham and cheese. There are no seats but the people behind these crepes know to wrap them up well, the perfect bite before a walk on the Heath or a dip in the ponds.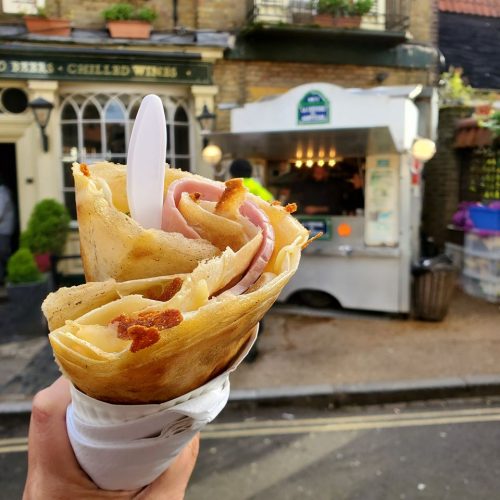 Some of the best Indian food to be found in London is in East Ham. Just down the District Line from Brick Lane (Whitechapel), you'll find a bustling high street with a different South Indian restaurant every other shop front. Not strictly your classic lemon and sugar, but an Indian dosa pancake is one of the most fun things you can order in a restaurant. A gigantic paper thin, crispy pancake glisteningly doused in ghee butter and traditionally filled with spiced potatoes and served with coconut chutney and sambar. Other fillings can include paneer (Indian cheese a bit like halloumi), spinach or coconut. Saravanaa Bhavan is one of the best restaurants in East Ham and has an extensive empire throughout Asia in countries including; Malaysia, Hong Kong, India, Saudi Arabia and some in Europe.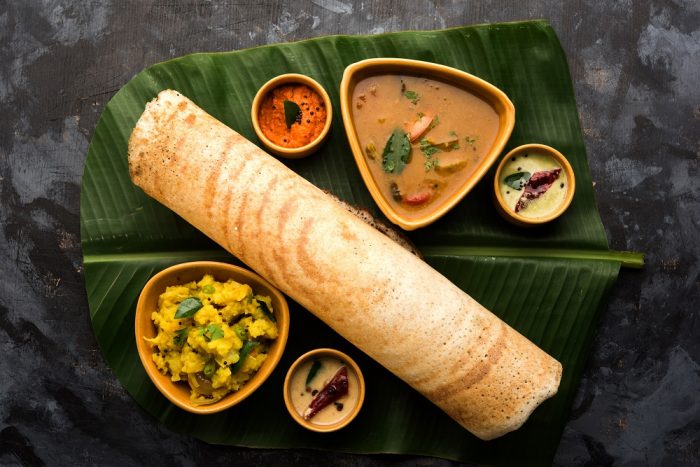 Happy Pancake Day!
Don't forget to tag us in your Pancake Day celebrations on Instagram.