Read Time:
3 Minute, 37 Second
Are you spending Christmas in London? Christmas is a truly enchanting time to visit the city, but it definitely pays to plan properly, as many shops, restaurants and bars will be closed on Christmas Day or have reduced opening hours on the days surrounding Christmas. Read our guide for a full run-down of recommended activities.
Christmas in London brings out a certain magic that can be felt throughout December. The lights are brighter, smiles are larger, and London attractions look even more beautiful than usual. There's plenty to see and experience in London at Christmas and the city comes to life as the festive season hits.
You don't have to wander far during Christmas in London to see some blindingly good Christmas lights and decorations. Oxford Street is the place to be if you want to see the biggest Christmas lights switch on in London, as the famous street welcomes Christmas with celebrity appearances, music and a countdown to the illuminations. Other star studded switch-ons include the Regent Street Christmas Lights and the Bond Street Christmas Lights.
From the 14th November until the end of December, you can take our Christmas Lights Tour of London and see the best of London, illuminated for Christmas.
Trafalgar Square is home to London's biggest and best Christmas tree, donated to the Brits from the people of Oslo, and is also the location for nightly carol singing throughout December. Covent Garden, Carnaby Street and Regent Street also have their own display of Christmas lights.
Winter Wonderland in Hyde Park
Without a doubt, London's most comprehensive Christmas attraction is Winter Wonderland in Hyde Park. This annual event turns a huge area of Hyde Park into a world of Christmas bliss with its very own Bavarian Village and other yuletide attractions. You'll find roller coasters or rides for thrill seekers and entertainment in the form of Zippos Christmas Circus. The 53 metre high Observational Wheel gives riders unbeatable views across Winter Wonderland and the ice skating takes place on the largest outdoor rink in the UK, complete with lovely fairy lights. Numerous bars, food stalls and a traditional Christmas market add to the merry atmosphere.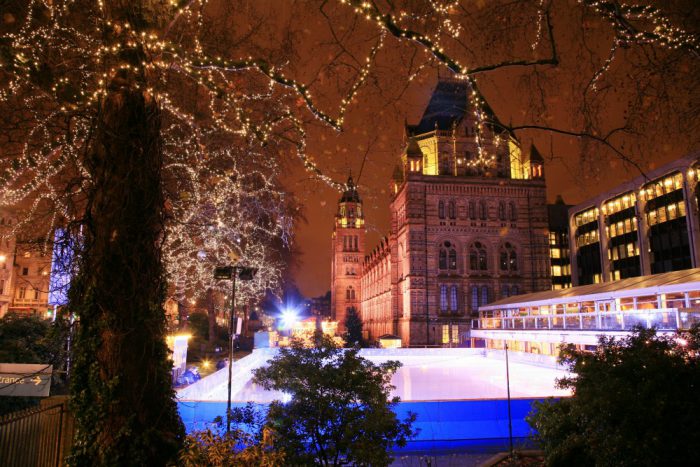 Ice Skating in London
One of the best ways to get in the Christmas spirit and have some winter fun in London is by wrapping up warm for an ice skating session at one of the capital's ice rinks. Top attractions such as the Tower of London, Natural History Museum, Canary Wharf, Winter Wonderland and Somerset House are all home to charming ice skating venues during the winter months.
Christmas Shopping in London
If it's Christmas presents you're after, shopping in the city definitely won't disappoint! From mammoth department stores to pop-up markets, you'll find something for even the most difficult people to buy for. Shopping in London at Christmas is a sightseeing opportunity in itself, as Harrods, Selfridges and Fortnum & Mason all boast dazzling Christmas displays and impressive seasonal decor both inside and out.
You'll find almost everything you need in these famous London stores but if a spot of outdoor shopping appeals to you, check out one of London's quaint Christmas markets. These traditional markets sell unique gifts and seasonal food and drink, and can be found at various locations throughout the city.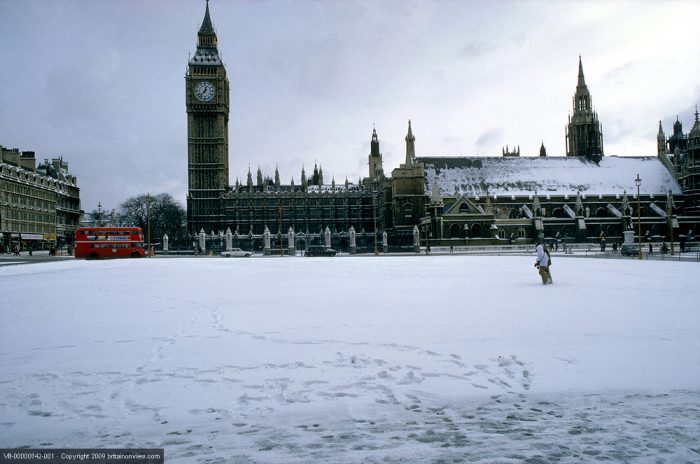 Santa's Grottos in London
Meet the man himself at one of many Santa's grottos in London. The famous bearded guy in red will set up shop at a number of locations for a limited period in the run up to Christmas. Children can have a chat with him and receive a little gift if they've been good! Locations include Harrods, Winter Wonderland, ZSL London Zoo and Westfield London. Bookings must be made in advance.
If you're here over Christmas Eve, Christmas Day and New Year, it's a good idea to check out our full range of Christmas activities and tours. We have a dreamy range of Christmas Day activities, including a Dickensian day trip to Canterbury, Dover, Greenwich, a special Christmas service and a full Christmas Day Lunch in Canterbury Cathedral! And don't forget to check what stays open on Christmas Day, as lots of places across the city will be closed.
Are you planning a trip to London this Christmas?