Posted by Hannah Richardson on September 2nd, 2014
Join Us For A Free Covent Garden Walking Tour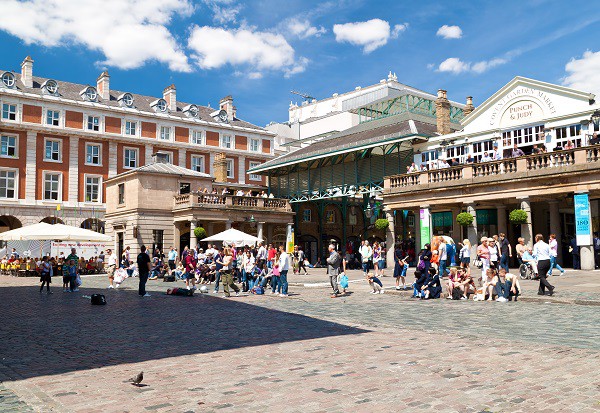 There are few places in London that attract both Londoners and visitors in equal measure. Covent Garden is one of them! Depending on the time of day you visit, you'll see business lunches taking place, tourists snapping photos next to street performers and friends grabbing a drink at one of Covent Garden's many pubs and bars. It's an eclectic, buzzing area of London that is rarely quiet and always has something going on!
Things to do in Covent Garden
The area known as Covent Garden is located in London's West End and is made up of smaller parts including the market piazza, the Opera Quarter (home to the Royal Opera House), St Martin's Courtyard, Seven Dials and Neal's Yard.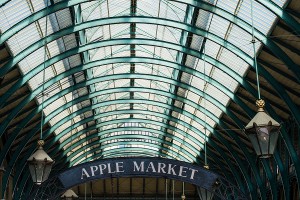 Popular with both Londoners and visitors, Covent Garden has something for everyone! Shops, restaurants, bars, pubs, theatres, museums, entertainers…the list goes on. There used to be a fruit and vegetable market in Covent Garden but over the years it transformed into the trendy city hotspot of today.
You'll see the "Apple Market" sign (left) during a visit to the many market stalls in Covent Garden. They now sell clothes, antiques and other gifts but the sign is a reminder of the fruit and veg market that once had a home here!
It's a great place to pick up some unique souvenirs and grab some delicious treats from the street vendors and pop-up food stalls. You'll also find big brand stores here – there's the Apple Covent Garden store, where you can pick up all your favourite Apple technology products (this Apple shop unsurprisingly isn't related to the old fruit market!).  The Covent Garden Apple store is one of the largest Apple stores in the world!
Some highlights of Covent Garden's 19th century piazza can be seen in the video below!
Free Covent Garden Walking Tour with Golden Tours
You've read about Covent Garden, now experience it! Golden Tours are offering a free 90 minute walking tour of Covent Garden, taking participants on one of the most exciting London walks available. This London walking tour is not just confined to Covent Garden piazza; the expert guide will take visitors to West End highlights such as London theatres, the Royal Opera House, historic hotels and much more.
The only way to fully experience Covent Garden and the area around it is by embarking on a London walking tour. Exploring Covent Garden on foot means you won't miss anything and, trust us, there's a lot to see! You can weave through narrow alleyways and cobbled streets with ease, soaking up the sights, sounds and smells of this vibrant London sightseeing location.
The free Covent Garden walking tour takes place every Saturday at 10.30 AM, departing from Duncannon Street near St Martin-in-the-Fields church. See the Golden Tours Facebook page for more information and to sign up.