How To Save Time And Money When Travelling Around London
How To Save Time And Money When Travelling Around London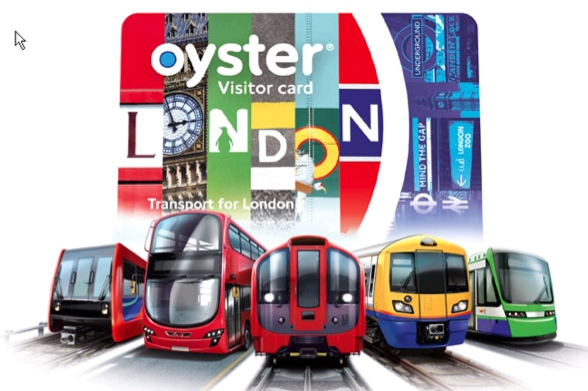 Every Londoner's best friend: the Oyster card
If you've visited or are thinking of visiting London in the near future, then chances are you've probably heard of the Oyster card. Over 60 million little blue Oyster cards have been issued since it was first introduced to London transport in July 2003 and over 85 per cent of all rail and bus travel in London is paid for using an Oyster card! They are used on the Tube, buses, London Overground, DLR and some National Rail and river boat services across London. The impressive statistics don't lie – so why have so many people switched to using Oyster to travel easily through the city?
1.       The Oyster card saves you money
The biggest and best benefit of the Oyster card is the pennies it saves you! London is an expensive city to live in and visit and the savings of using an Oyster card really do add up even if you are just visiting for a short amount of time. You can load a weekly Travelcard onto the Oyster, so there's no need to keep buying paper tickets. For visitors coming to London for a short period of time, using Oyster on a Pay As You Go basis is a good choice – you'll pay £2.20 for a single Tube journey within Zone 1 compared to £4.70 with a paper ticket! Oyster cards are clever; you won't pay more than a daily travelcard no matter how much you travel around London as they automatically cap your fare to match the price. Take a look at TfL's website for more information on journey prices with Oyster card.
2.       It saves you time
People who have travelled on London's public transport know how hectic it can be for a couple of hours in the morning and again in the evening. Long queues often snake from the ticket machines and having to wait in line can easily add a good amount of time onto your journey. With the Oyster card, as long as it's topped up with cash or a Travelcard, you're good to go! When hopping on buses, it makes the paying for the fare much quicker as there's no scrambling for change when paying the driver!
3.       It's reusable

The Oyster card can be used over and over again, and the money contained on the card won't ever go out of date or be unusable. Not only is it good news for the environment, but you can share the love and pass on your Oyster card to someone else once you're finished with it! If you've left any money on it, that's an added bonus for the friend or family member travelling to London after you.
4.       It makes a great take-home souvenir
The Visitor Oyster card features eye-catching London designs and is a pretty cool memento from your London trip. You'll pay a £3 one off card fee to cover the cost of producing the card and it can be bought and ordered before you arrive in London or once you get there. Keeping your Oyster card in your purse or wallet is a welcome reminder of your London trip!
Used by first time visitors and Londoners alike, it's clear that the Oyster card is a firm favourite for many travellers! It's a great London essential that will serve its purpose time and time again. Any questions about London travel? Ask away in the comments below!