Read Time:
7 Minute, 21 Second
Where Are The Best Bakeries in Paris?
Head over to the Rose Bakery for a taste of British
Bizarrely our first recommendation is an English cafe! Rose Bakery is owned by a Franco-British couple who pride themselves on the quality of their ingredients. In an attempt to counteract the arguable complacency of French cuisine in Paris – "It's all about steak frites and nothing else!" – the Rose offers stunning whole cakes, scones, fresh salads and sandwiches, and their focus on fresh ingredients and move away from classic French cuisine seems to be fairly popular among the Parisians.
Looking For a Gluten Free Bakery?
Nestled on the eclectic Rue san Honoré and just a short walk from the spectacular Jardin des Tuileries, is Helmut Newcake, a completely gluten-free Parisian bakery. Exquisite pastries and artisanal cakes coat every surface of this bakery, where you can gorge on Canelé, chocolate éclairs, tarte au citron or anything you like, as its all gluten free! Word on the street is they're almost better than the originals!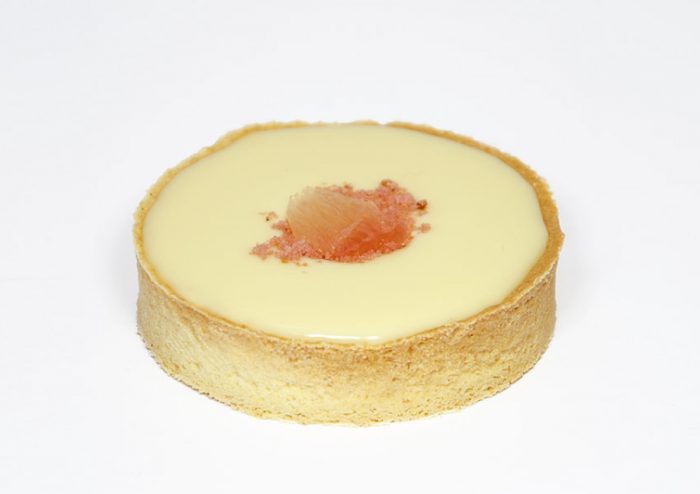 The Best Baguette in Paris Belongs to Brun Bakery
A little out of the centre of Paris in the 13th arrondissement, on the rue Tolbiac is the winner of the best baguette of the year 2017, Brun Boulangerie. So just how many bakeries are there in Paris? As of 2017, Brun Bakery beat 1,217 for the top spot. Golden croissants, creamy Paris-Brest and rum babas complete with a little pipette to squeeze more syrup in to the sweet sponge, are all on offer as well as the award winning baguettes. While you're in the area, take a stroll around the Butte aux Cailles, a beautiful part of Paris frozen in time. Cobbled streets line this village like area which is brimming with family run restaurants and vintage shops.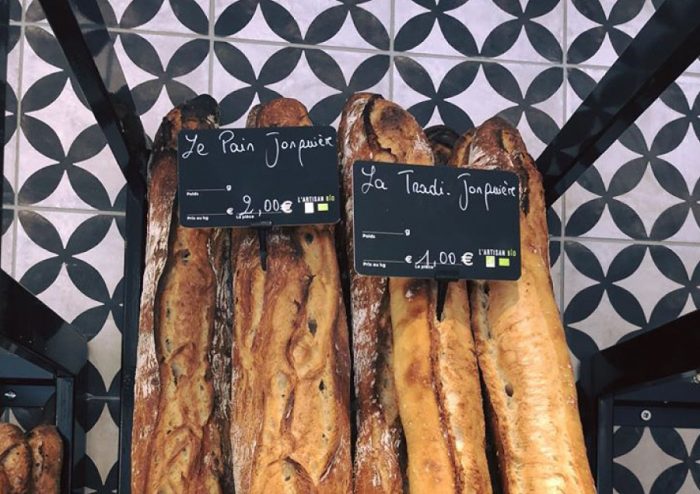 Must Visit Cafes in Paris
Café de Flore
One of the oldest coffeehouses in Paris, this alleged 'birthplace of surrealism' has been hosting celebrated writers, artists and philosophers, including Sartre and Pablo Picasso since the 1880's. Café de Flore achingly fashionable café does amazing things with eggs; try the omelette with wild mushrooms or pop in for an apéritif, but expect crowds.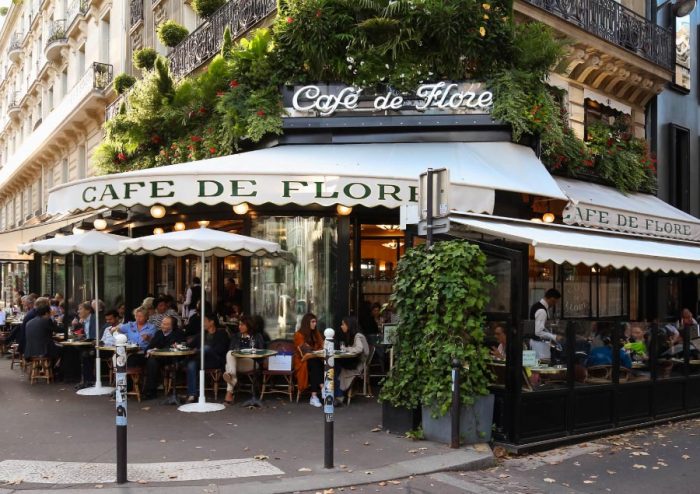 Angelina Café
Previously frequented by Coco Chanel nonetheless, Angelina café is the perfect place for a decadent breakfast. The famous hot chocolate L'Africain is well worth a try for those with a sweet tooth, served with a chestnut crêpe or a caramelised brioche. The beautiful interior was designed in the classic Belle Époque style, exuding opulence, grandeur and romance.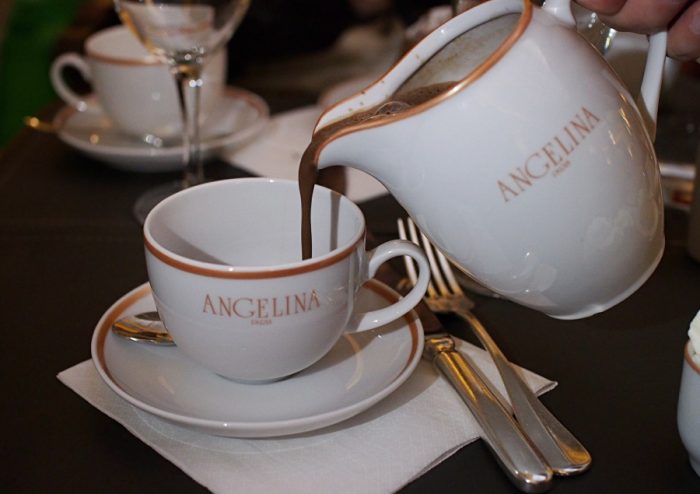 Grand Mosque Restaurant
This hidden gem is located in the 5th arrondissement and decorated with exotic azure tiles and filled with tropical plants and flowers. Follow the walls of the Grand Mosque for the restaurant, where you can choose to sit in the Moroccan courtyard or the traditionally decorated inside dining room. Rich tagines, couscous and of course mint tea are served, and there is a fantastic selection of flaky buttery sweets for afters. A glamorous oasis in the heart of Paris.
Wine and Cheese Tasting in Paris
La Cave du Septime
Due to the incredible quality and variety of produce in France, no trip is complete unless wine and cheese are consumed, preferably together. But in such a cosmopolitan city, it can be tricky to navigate your way through the many streets and find where to eat the best cheese and drink the best wine in Paris. La Cave du Septime is a tiny hole-in-the-wall wine bar well hidden in an old shoe shop. The walls are covered with bottles to buy and drink, and be sure to get some small plates including mozzarella and salted anchovies, and a selection of cheeses from Quatrehomme.
Quatrehomme
This brings us on to Quatrehomme, a cheese monger with a rich history and 4 shops in Paris. A friendly and relaxed atmosphere, this is a place for aficionados and beginners alike with an incredible range of cheeses, making it one of the best cheese shops in Paris.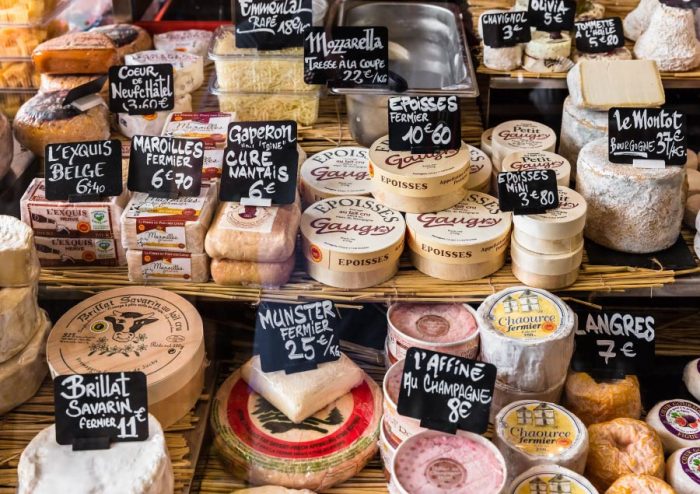 Le Baron Rouge
You've had one of the best cheese places in Paris, now for the wine. Le Baron Rouge is a Parisian institution when it comes to wine so be prepared to share space. If you arrive after 5pm you'll almost certainly be out on the buzzing pavement with the rest of the latecomers, but it doesn't matter. This unpretentious local bar serves local cheeses, charcuterie and seasonal oysters, and for a small deposit you can fill up 1 litre bottles straight from the wine barrel for as little as €4.50.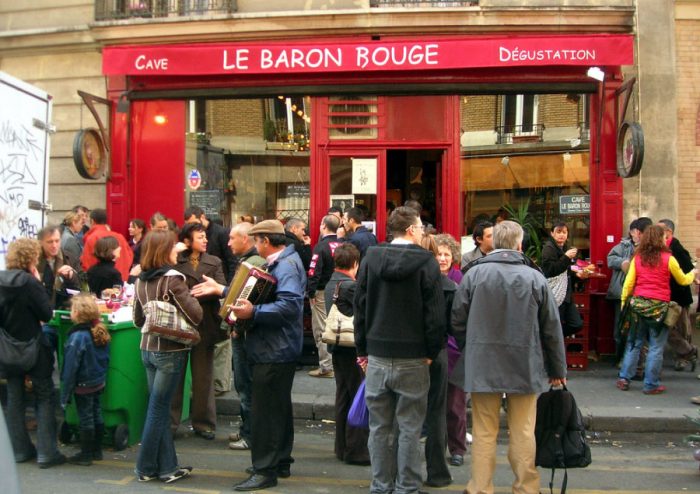 Where Are the Best Restaurants in Paris?
Where to Eat Duck in Paris
Confit duck is not only a delicious and decadent meal, but along with frogs legs and snails, it's also quintessentially French. Not a cheap option by any stretch of the imagination but definitely worth a mention if you're on an indulgent holiday is the historic La Tour d'Argent restaurant. The Caneton de Frédéric Delairm or 'pressed duck', their signature dish, comes with a certificate for every diner who orders it, over 2 million so far.
Duck is not a cheap meat anywhere but its likely most of us are looking for somewhere where mains are more of a 2 figure affair, rather than 3. Le Petit Canard almost exclusively serves duck in a variety of different ways including confit, duck á l'orange, and duck tartare, at much more pocket friendly prices.
Where to Eat Oysters in Paris
Situated in the vibrant Marais district (4th arrondissment), where food, fashion and delicious libations lurk down every cobbled street, is Le Mary Céleste. This little oyster bar serves daily fresh oysters at €1 per pop during their happy hour (5pm til 7pm), that can be washed down with a glass of one of their white wines for €5 a glass.
The lively Parisian bistro right next to the Gare de l'Est, Extérieur Quai serve €1 oysters every Wednesday night from 6pm until they run out. Retro posters line the walls and a pinball machine sits in the corner, this relaxed bistro has over 70 bottled beers to wash down your Huîtres.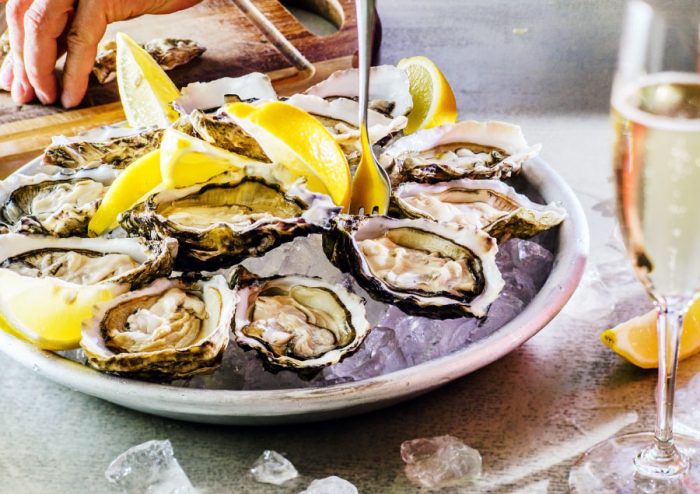 Vegan Restaurants in Paris
With French cuisine famously leaning heavily on cream, butter and meat, it begs the question; how to eat like a vegan in Paris? Try 42 Degrees for an alternative meal at this 100% raw restaurant that offers dishes like girolle mushrooms with parsley oil, and hazelnuts and a raw apple pie with date caramel.
The Abattoir Végétal has transformed its site from an actual abattoir, to an instagrammers dream. This vegan restaurant is filled with plants and flowers and the very affordable €15 starter and main lunch menu offers large portions of colourful curries, seasonable vegetables and falafel with lemon cream, all adorned with edible flowers. Arguably the best vegan restaurant in Paris is the traditional Le Potager du Marais. Classic French home-style cooking but completely organic and vegan and mostly gluten free! Enjoy French onion soup, mushroom paté, and apricot crème brûlée in a rustic and friendly setting.
Where to Buy Macarons in Paris
French macarons are synonymous with Paris and no trip is complete without sampling the sweet treats. Well known purveyors of French macarons, Ladurée have a very clever marketing team and have had their macarons featured in many films and TV ads including Sofia Coppola's Marie Antoinette. Established in 1862 the Ladurée shop on the Champs-Élysées is like stepping in to a Disney film, albeit one with pricey macarons everywhere.
Arch rivals of Ladurée, Pierre Hermé, possibly the most famous macaron shop in Paris, also offer luxury macarons. A pioneer of the classic French sweet, make sure you try his signature pistachio macaron; a soft yet crisp shell crumbles away to reveal pistachio and almond meringue and a white chocolate and pistachio ganache, with a hint of bitter almond. This classic Parisian treat doesn't usually come cheap and the above mentioned might put you a little out of pocket. Carette, just a stone's throw away from the Eiffel Tower offer delicious macarons where you can order a plate of 5 mini macarons for €10.
Although eating and drinking may be the most important part of any Paris trip, believe it or not there are other things to do!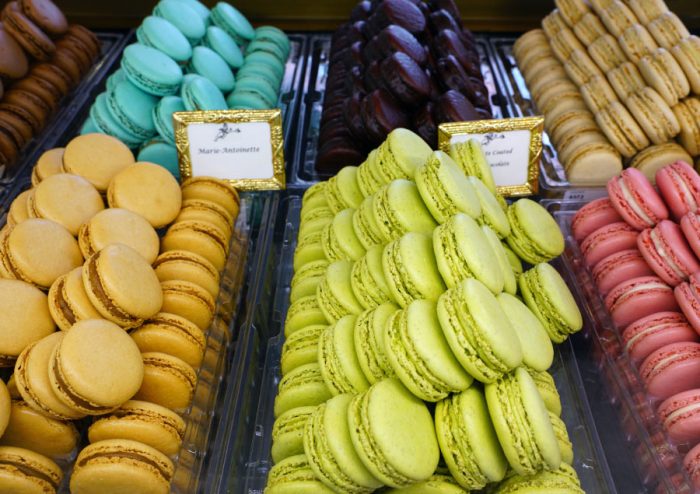 If you're planning a trip to Paris check out our tours for a stress free holiday.