Read Time:
10 Minute, 6 Second
Have you taken the brave decision to go meat-free this month with Veganuary? Fear not, we'll help you get through this – we've searched high and low for tasty vegan and vegetarian options and found no less than 28 locations across London and the UK that promise to be as scrumptious as they are cruelty-free.
The Spread Eagle (London – Homerton)
One of East London's oldest pubs went 100% vegan in 2018, striving to serve fresh, plant-based and sustainable meals. With a range of vibrantly delicious bites provided by street food makers Club Mexicana and plenty of musical and cultural events on offer, we believe The Spread Eagle is a fabulous way to give meat a miss while also beating those dreaded January blues.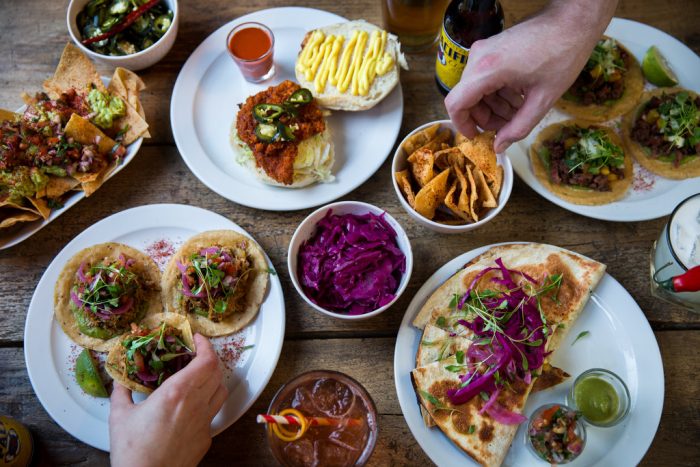 Address: 224 Homerton High Street, London E9 6AS
Genesis (London – Shoreditch)
Fast food with plenty of soul – the super hip Genesis offers amazing burger, hot dog and taco dishes that are organic yet comforting, unashamedly indulgent and 100% plant-based. Prepare to feel ridiculously satisfied after visiting this delightfully pink and retro-inspired venue, located in the vibrant area of Shoreditch.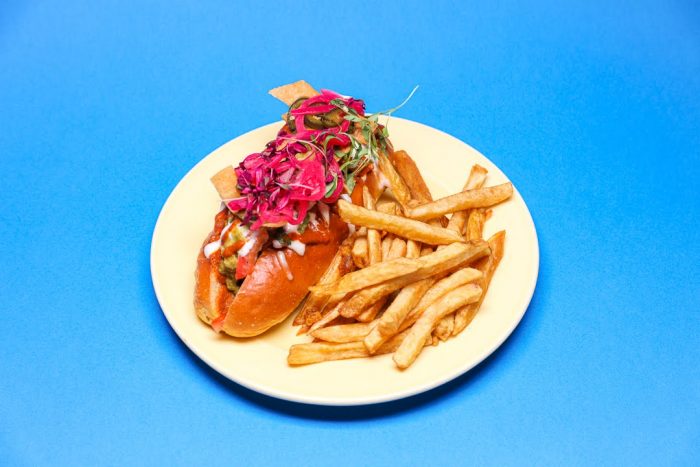 Address: 144 Commercial Street, Spitalfields, London E1 6NU
Palm Vaults (London – Hackney)
Leave your laptops, tablets and stresses at home before coming to the effortlessly cool Palm Vaults, an independent café with a simple, delicious vegetarian menu. While you're not allowed to have laptops or tablets, you can bring dogs – we think that's a much better option.
Address: 411 Mare Street, Hackney, London E8 1HY
Farmacy (London – Notting Hill)
Unapologetically glamorous and oh-so-Instagrammable, Farmacy was a hit from the get-go thanks to its gorgeous settings and plant-based menu. It's fair to say that since its opening in 2016 Farmacy has fully flourished into a lifestyle brand; offering a cookbook (written by Farmacy's founder, Camilla Fayed), creating 100% organic and toxin-free candles, collaborating with a high-end fashion brand to bring out luxurious apparel merchandise and launching a pop-up restaurant in New York. But impressive ventures aside, this meat-free powerhouse still makes for a delightful brunch spot when in Notting Hill.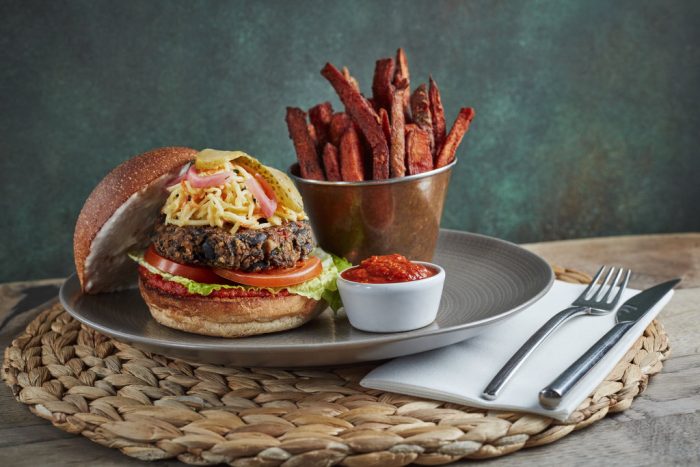 Address: 74-76 Westbourne Grove, London W2 5SH
Redemption (London – Notting Hill, Shoreditch and Covent Garden)
Can you be healthy and indulge? The answer is a clear yes at Redemption, a fun, glitzy and fully vegan concoction that now has three venues across London. From buckwheat pancakes to Buddha bowls and a burger made with shitake mushroom, black beans, walnuts and ruby red beets, the meals at Redemption are anything but dull. Not to mention the fact that Redemption also has the world's first alcohol-free bar – a perfect option for those brave souls who may be attempting to have a Veganuary and Dry January.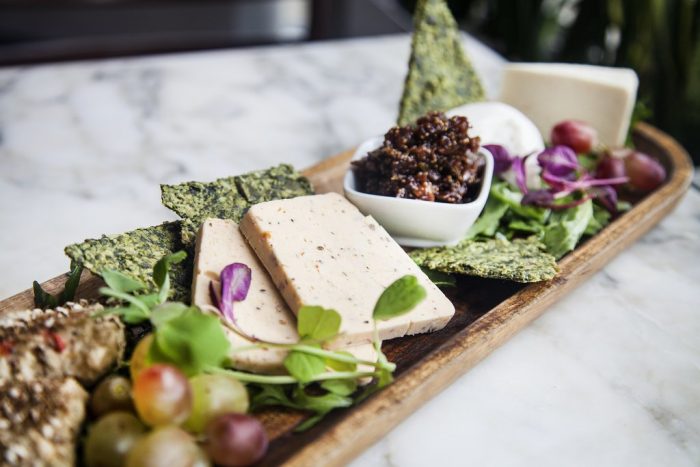 Addresses: Notting Hill – 6 Chepstow Road, London W2 5BH. Shoreditch – 320 Old Street, Hackney, London EC1V 9DR. Covent Garden – 15 Short's Gardens, London WC2H 9AT
SpiceBox (London – Walthamstow)
Founded by Grace Regan, a former Silicon Valley techpreneur with a passion for plant-based food and Indian cuisine, curry house and takeaway joint SpiceBox has become a well-known spot in the bustling east London neighborhood of Walthamstow. The company's ethos is all about serving vegan meals that are delicious, colourful and bursting with character – all while spreading positive vibes and being kinder to the planet.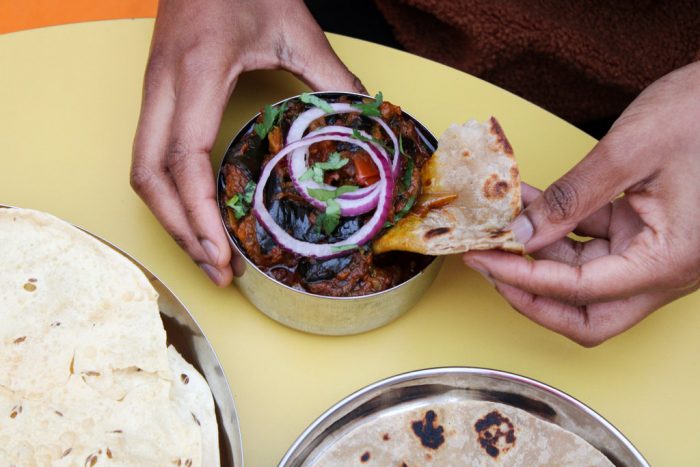 Address: 58 Hoe Street, Walthamstow, London E17 4PG
The OakTree (Essex)
Serving breakfast, lunch, afternoon tea and dinner that is 100% vegan, The OakTree's menu is a delicious mash-up of classic dishes with a twist. Comforting and affordable, this buzzing restaurant hosts its very own Curry and Burger Nights on Tuesdays and Thursdays.
Address: 75 Leigh Road, Leigh-on-Sea, Essex SS9 1JN
The Old Hardware Shop (Liverpool)
This charming, unassuming spot founded by passionate vegans is an absolute meat-free treat that excels at delicious comfort food. You'll find hot dogs, pizzas and much more on its menu – but you can't go to The Old Hardware Shop without trying one (or more) of its many sweet treats.
Address: 8 Woolton Street, Liverpool L25 5JA
The Garden Eatery (Hale)
Describing itself as both a health food café and wellbeing hub, The Garden Eatery takes great pride in serving 'earth-friendly' food and hosting a variety of lifestyle events – thus creating a great sense of community and inclusivity. While the menu is largely plant-based, many of the dishes can be served with meat… Just don't blame us if you're tempted to break your Veganuary ritual.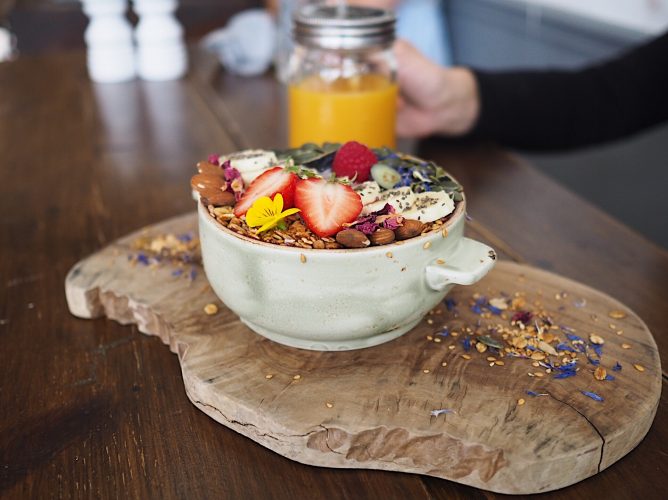 Address: 154 Ashley Road, Hale, Altrincham WA15 9SA
The Allotment Vegan Eatery (Manchester)
Fear not, non-vegans – this elegant Mancunian venue has a string of 'best vegan' and 'best vegetarian' awards under its belt. The Allotment Vegan Eatery uses fresh, sustainable and locally sourced produce and refreshes its menus regularly, promising to bring a never-tasted before plant-based experience to the table.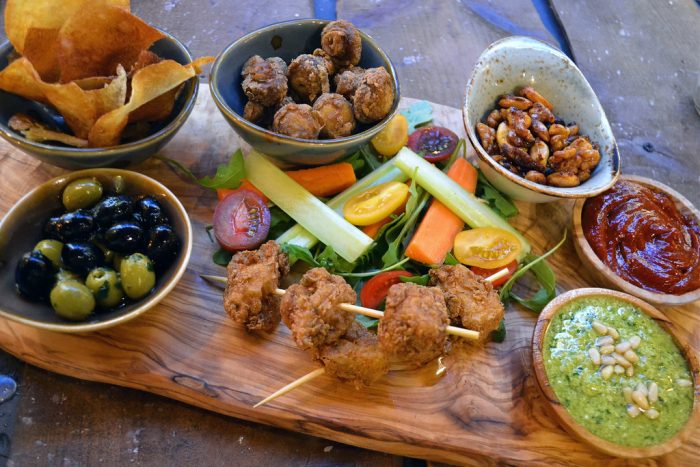 Address: Lloyd's house, 18-22 Lloyd Street, Manchester M2 5WA
Once Across the Garden (North Yorkshire)
Specialising in vegan catering – specifically street food including burgers and hot dogs and celebratory cakes – Once Across The Garden also has a shop you can drop by to either get takeaway or eat at. But fear not if you can't make your way to its shop, as this company work their magic at local events and festivals.
Address: 10 Church Street, York, North Yorkshire YO1 8BG
The Veggie Café (West Yorkshire)
Charming and unassuming, The Veggie Café is a family-run business that gets booked out quickly thanks to its choice of classic full English breakfast dishes with a veggie twist. You'll also find quiches, pies and plenty of cakes and sweet treats – many of which are also gluten-free.
Address: 32 Leeds Road, Ilkley, West Yorkshire LS29 8DS
Mango (Leeds)
Heavily inspired by the founders' origins, the West Indian state of Gujarat, Mango is an independent and award-winning restaurant that delivers fresh vegetarian food 'made with love'. Brimming with wonderful spices and unique recipes, most of the menu is gluten-free and vegan or can be made vegan.
Address: 12-14 Bank Street, Leeds LS22 6NQ
BA-HA at Churchill's (Birmingham)
Located in Birmingham's shopping centre Mailbox, the BA-HA team serve a vegan menu within the grounds of the bustling wine and cocktail bar Churchill's. Brunch of Champions, Bish & Chips and Cauli-fornia Dreamin' are just some of the mouth-watering dishes you'll find at BA-HA, which covers brunch, lunch and dinner.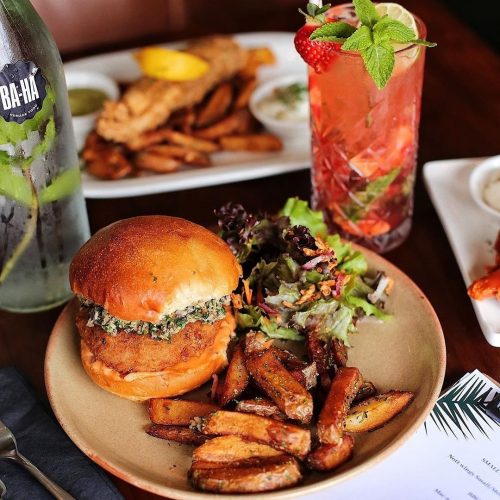 Address: Churchill's Bar, 171-172 The Mailbox, Wharfside Street, Birmingham B1 1RL
Holy Cow (Edinburgh)
A relaxed, friendly and 100% vegan café based in the Scottish capital, Holy Cow serves, among many other dishes, cruelty-free burgers made with marinated tofu and Vietnamese slaw. But those with a sweet tooth will love the café's selection of homemade cakes, biscuits and milkshakes.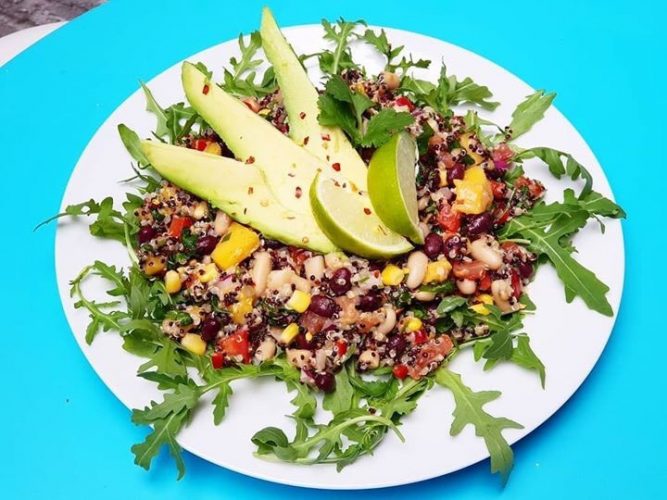 Address: 34 Elder Street, Edinburgh EH1 3DX
The 78 (Glasgow)
Pub quizzes, live jazz, just the right dose of kitsch and plenty of fun – there's something very tongue-in-cheek about Glasgow's The 78, which also happens to be a haven for comfort vegan meals.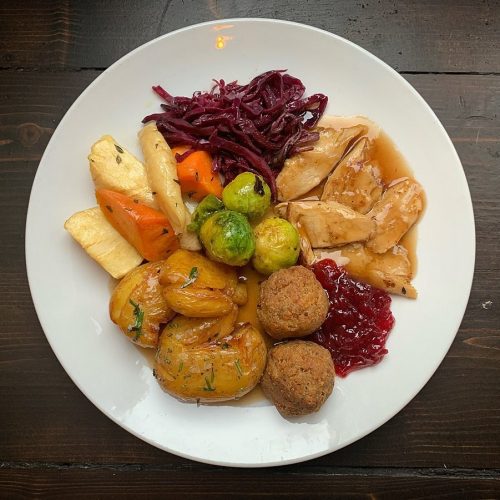 Address: 10-14 Kelvinhaugh Street, Glasgow G3 8NU
Displaying strong values by focusing on nutrition, animal welfare and what's good for the planet, Acorn is a vegan and plant-based restaurant with a straightforward, scrumptious and very aesthetically pleasing menu.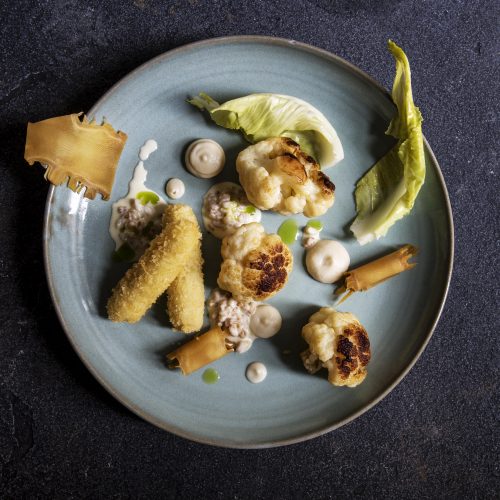 Address: 2 N Parade, Passage, Bath BA1 1NX
Café Kino (Bristol)
This heartfelt non-profit organisation and workers' co-operative is not only known for cultivating a community – Café Kino also makes delectable burgers and other dishes that are 100% free of animal ingredients.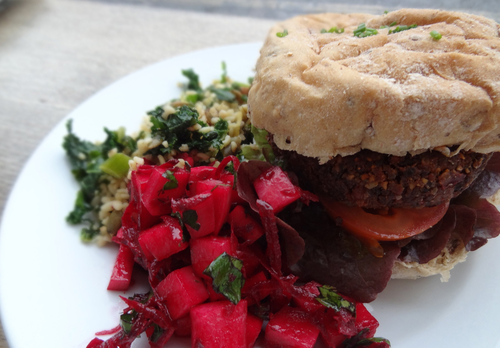 Address: 108 Stokes Croft, Bristol BS1 3RU
Anna Loka (Cardiff)
Cardiff's first ever vegan restaurant offers breakfast, lunch and dinner through a fabulous variety of dishes – one of our favourites is the Cali Breakfast, created with homemade 'sausage', smoky 'rashers', wholemeal toast, avocado, tomato and scrambled tofu. Mouth-watering to say the least.
Address: 114 Albany Road, Cardiff CF24 3RU
Yogāya (Swansea)
Heavily influenced by the East and offering meditation and yoga sessions, Yogāya is a friendly wellbeing hub that combines tasty Indian-inspired dishes with the right dose of spirituality and kindness.
Address: 8 Cradock Street, Swansea, SA1 3EN
Seaside Cake Parlour (Margate)
Margate has stepped up its game in recent years, becoming a burgeoning spot for independent businesses with a bohemian flare. Hence why Seaside Cake Parlour – Kent's first fully vegan café – complements Margate's laidback and stylish atmosphere perfectly. Offering afternoon tea and a Sunday all-you-can-eat brunch buffet, this place also creates the most incredible made-to-order showstopper cakes.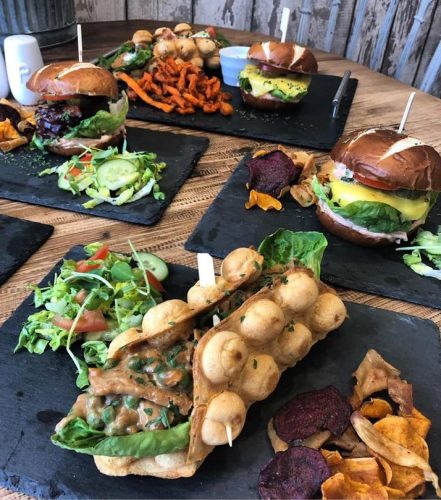 Address: 24 Hawley Street, Margate CT9 1QA
The Magic Café (Oxford)
This quirky little spot in the city of Oxford has a ridiculously cosy vibe – you might even feel like you're stepping into someone's living room. Thankfully, you'll get a warm welcome and a delightful choice of affordable, homemade dishes that are veggie and vegan friendly.
Address: 110 Magdalen Road, Oxford OX4 1RQ
Happy Friday Kitchen (Oxford)
Taking inspiration from Californian comfort food, Happy Friday Kitchen was Oxford's first ever 100% vegan restaurant and has a mouth-watering selection of menus. From the pancake of the month to burgers, pizza, cookie dough balls and much more, this relaxed venue has everything you need to get through a meat-free January while still treating yourself to delicious meals.
Address: 282 Cowley Road, Oxford OX4 1UR
DoppleGanger Burger (Cambridge)
Want to give Veganuary a go but unsure you can survive without burgers? Try DoppleGanger's delicious plant-based burgers – you'll be ticking that meat-free box with ease. And why not treat yourself to one of their tasty brownies too?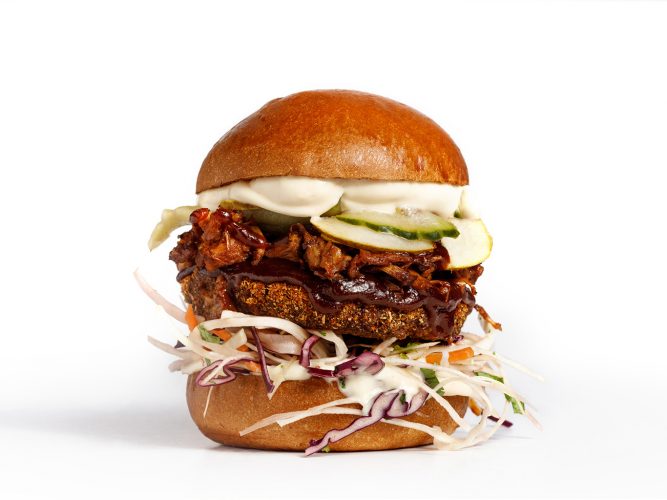 Address: 59 Regent Street, Cambridge CB2 1AB
The Cornish Vegan (Cornwall)
Located in Truro, Cornwall, The Cornish Vegan specialises in homemade comfort food that is freshly cooked on a daily basis. With ethical sourcing being one of the founders' main priorities, what isn't made in-house is locally sourced – the café offers delectable cakes from the Little Green Vegan Bakery and bread from Baker Tom's.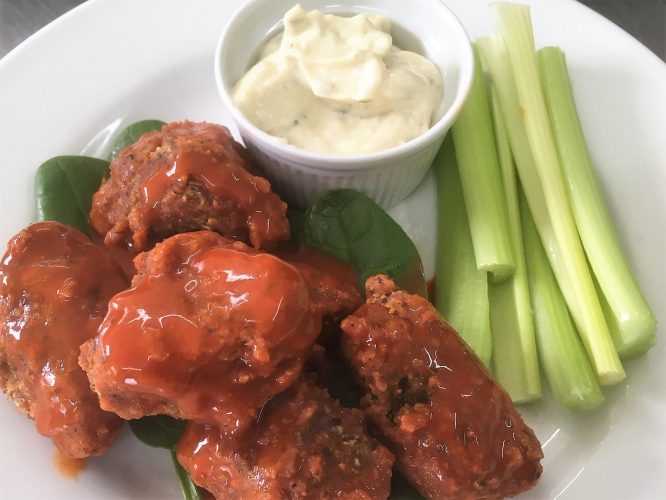 Address: 15 Kenwyn Street, Truro, Cornwall TR1 3BU
Happy Maki (Brighton)
Sushi? Burritos? Count us in! Happy Maki are a counter-serve business working mainly at festivals and food markets, however if you're in Brighton you can visit their brick and mortar shop to treat yourself to one (or more, we're not counting) of their scrumptious vegan sushi burritos.
Address: 8 Pool Valley, Brighton BN1 1PN
Planet India (Brighton and Hove)
Founded in 2004, Planet India is perfect for non-vegetarians and vegetarians who share a love for authentic Indian food. Expect tasty meat-free curries and scrumptious sides at this much-loved family-run restaurant and takeaway spot, which has two locations in Brighton and Hove respectively.
Addresses: Brighton – 4 Richmond Parade, BN2 9PH. Hove – 8 Third Avenue, BN3 2PX.
Plantarium Café (Stratford-upon-Avon)
What was once the hometown of William Shakespeare is now home to a lovely vegetarian and vegan café and tea room, popular for its variety of lunches and irresistible selection of cakes.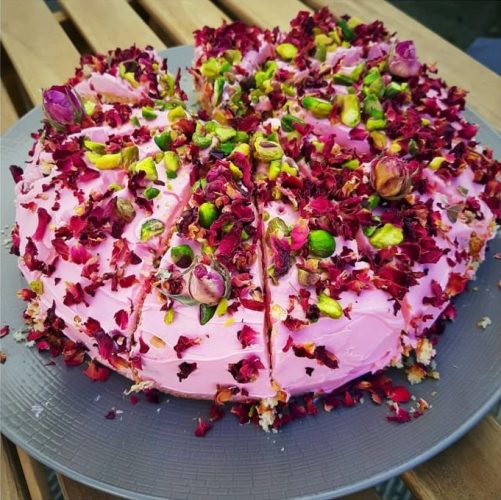 Address: The Minories, Henley Street, Stratford-upon-Avon CV37 6NF
The Green Kitchen (St Alban's)
This neighbourly spot much-loved by locals offers a simple and 100% vegan breakfast and lunch menu, which includes a Spanish style omelette, a smoothie bowl, the option to build your own English breakfast and more. The Green Kitchen is usually open until the afternoon but will do themed evening supper nights once or twice a month.
Address: 419 Hatfield Road, St. Albans, AL4 0XP