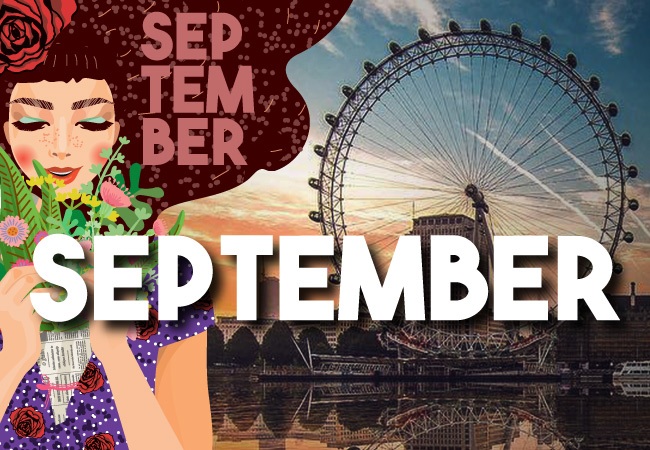 10 Fantastic Things To Do in London this September
Yes, we've got a case of post-holiday blues too – but it's not all doom and gloom as there's plenty of fun stuff to do in London in September! From butterflies to exhibitions and multi-coloured labyrinths, here are no less than 10 fantastic things to do in the capital before the temperatures cool down for autumn…
Open House London
This yearly free event has been running for a decade and rightly so reached a pretty iconic status. Every September, curious participants get to enter a multitude of London buildings that are normally closed to the public. Open House is a unique celebration of London's history and architecture and a once-in-a-lifetime chance to discover a piece of the capital's history.
Where? All over London – there are over 800 locations to choose from!
When? On the weekend of the 21st and 22nd of September.
Buckingham Palace
It's not every day you get to see where Queen Elizabeth II spends a lot of her time – in fact, one of the world's most famous palaces only opens its golden gates to the public for a short period of time throughout the summer. Full of opulent furnishings and stunning artworks, Buckingham Palace is a royal spectacle like no other. But be warned: you will leave wondering why the heck you weren't born a royal…
Where? Buckingham Palace, Westminster, London SW1A 1AA
When? Gates are open to the public until the 29th of September.
Butterfly Biosphere: Pleasures of the Nectar Dome
Yes, it's as fancy as it sounds – there is a temporary lepidopterarium – or pop-up butterfly house for us common folk – in central London. For 10 days only you can get up close and personal with these beautiful flying wonders in Grosvenor Square. But beyond the insta-opportunities this event could present, Butterfly Biosphere aims to remind us not only of the fact that the population of butterflies is dangerously declining, but also of how crucial their role is in nature.
Where? Grosvenor Square, Mayfair, London W1K 2HP
When? Until the 15th of September.
The Barbican Conservatory
Formerly one of London's best kept secrets in the City, the Barbican Conservatory is a joy for plant aficionados, hard-core 'grammers and all-round explorers alike. Home to over 2,000 species of plants (some of which come from areas as diverse as South Africa and Brazil and are considered endangered species in their natural habitat) and three ponds, you'd be forgiven for thinking this stunning venue located in the Barbican Centre looks straight out of a post-apocalyptic film set.
Where? Barbican Centre, Silk St, London EC2Y 8DS
When? Usually open every Sunday (but it has started opening on selected Saturdays every month).
Sit on the Friends' sofa
To celebrate the 25th anniversary (yes, we feel ancient too) of one of TV history's most iconic shows, Friends, there will be not one but two replicas of the show's famous orange sofa from the Central Perk cafe dotted around London (as well as other cities in the UK and the world). You'll find one by the London Eye and another one in Abbey Road – we suggest a group of you (perhaps six?) have a sit down on one of them and relive all your favourite Friends moments.
Where? By the London Eye (Lambeth, London SE1 7PB) and Abbey Road (St. John's Wood, London)
When? Only on the 22nd of September (the exact anniversary of when the show first aired back in 1994 – yikes!).
Tim Walker: Wonderful Things at the V&A
This is one for the fashionistas, photographers and art lovers – the V&A is hosting an exhibition on one of fashion's most prolific image-makers, Tim Walker. Featuring new work that's inspired by the V&A's collections, we expect this immersive show to be nothing less than extraordinary.
Where? Victoria and Albert Museum, Cromwell Road, London SW7 2RL
When? It opens on the 21st of September.
Colourscape at Clapham Common
Holding the distinction of being the only music festival to take place within a sculpture of colour and light, the nine-day long Colourscape Music Festival kicks off on the 14th of this month. Step inside a colourful one-acre labyrinth of nearly 100 interlinked chambers and prepare to find musicians and dancers anywhere within its saturated premises. There's no denying that this is a very photogenic event – but photo ops aside, Colourscape is a wonderful mash-up of lights, colours and innovative music.
Where? Colourscape will be on in Clapham Common, off Rookery Road, near the Long Pond boating lake and The Windmill pub
When? From the 14th to the 22nd of September.
The London Podcast Festival
OK, it probably doesn't get any more millennial than this, but the London Podcast Festival has been a hit since it launched in 2016. Taking place in Kings Place, the festival runs over two weekends and features a fantastic variety of live recordings from some of the biggest names in the podcasting world (as well as plenty of fresh talent and new discoveries to get addicted to).
Where? 90 York Way, London N1 9AG
When? On until the 14th of September.
BAFTA: Behind the Screens at Bafta Piccadilly
The British Academy of Film and Television Arts (BAFTAs) have put together BAFTA: Behind the Screens, a juicy exhibition that is bound to be a hit among film geeks and lovers of pop culture. Celebrating the talents who have made many popular films and series, this two-year long exhibition will be featuring scripts, displays and costumes – including the famous pink dress worn by actress Jodie Comer in her role as an assassin in the hit TV show Killing Eve (pictured below).
Where? Bafta Piccadilly, 195 Piccadilly, St. James's, London W1J 9EU
When? It opens on the 17th of September.
Japan Matsuri 2019
Passionate about Japan but unable to go there? Well if you're in London you can get your fix on the 29th of September at Trafalgar Square with Japan Matsuri, a one-day celebration of all things Japanese. With many events throughout the day including live performances, expect an excellent mix of arts and culture as well as lots of delicious nibbles.
Where? Trafalgar Square, Charing Cross, London WC2N 5DN
When? Only on the 29th of September.