Read Time:
2 Minute, 37 Second
After being teased for months with sunny spells that were gone in the blink of an eye and many a jumper-worthy day right into May, it looks like Londoners have finally been blessed with an actual summer, which means it's time to make use of those sun rays before they disappear. And what better way is there to get a healthy dose of vitamin D while having a drink (or three) than to visit a rooftop bar?
What London lacks in real beaches (because indeed there are faux ones) it makes up for with plenty of rooftop bars. Big, small, glam, vibrant, relaxed… when it comes to rooftops there's definitely something for everyone and these are five of the best rooftop bars in London:
Bar Elba – Waterloo
Less than a 5-minute walk from the bustle of Waterloo station, this charming place takes its name from the Mediterranean island that Napoleon was in exile for 300 days. Bar Elba's premise, inspired by the decadence of the French emperor's exile, is simple: have cocktails, have food, party on and don't forget to Instagram that flower wall.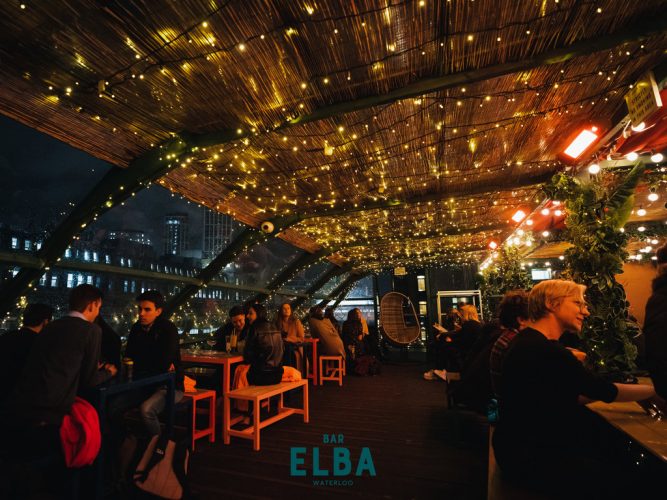 Netil360 – Hackney
Located next to the ever-so-trendy Broadway Market, this Hackney rooftop bar oozes cool and boasts some pretty swanky views of London's City and financial districts. Its laidback vibes and delicious pizza offerings make it even more appealing – but arrive early or else prepare to queue for an hour or more, as Netil360 is a coveted spot amongst many hip east Londoners.
Queen of Hoxton – Shoreditch
Considered by many as the mother of all London rooftop bars, this iconic venue in Shoreditch is an absolute classic that one can always rely on. Queen of Hoxton's cosy rooftop bar gets a very Instagrammable themed makeover every season – for this summer, the aim is to make visitors feel like they're in the city of San Cristóbal in Mexico and to show a glimpse of Mexican female wrestling culture. And while the rooftop may close at 10pm, its bar and club are open into the early hours of the morning for those night owls who like to keep the party going a little longer.
Bussey Rooftop Bar – Peckham
Currently rivalling Shoreditch in terms of trendiness, the South London district of Peckham is bursting with creative start-ups, artsy happenings and effortlessly cool venues. The very inviting, tropical-themed Bussey Rooftop Bar is one of them, offering food, drinks, picturesque views and an open-air cinema showing both classics and newer releases. Hold on – a rooftop bar and a cinema? Watching the sun set and an old film favourite? It's a hard one to top.
Pergola – Paddington and Olympia
Glitzy and fun, Pergola is fairly new to the London scene and yet has successfully amassed a keen following, leading to two locations – one in central London (Paddington) and one in west London (Olympia). Both venues are spacious, unapologetically fancy and full of tasty food options. Not to mention the pretty idyllic views and sunset-ready settings – what's not to love?