Read Time:
2 Minute, 7 Second
St Paul's Cathedral cannot be overestimated in terms of its cultural and historical significance to the whole of the UK, not merely London. It's common knowledge that it has been the site of numerous funerals of eminent figures and has played host to royal weddings. The structure is also renowned for the peace services it has held to mark the end of the First and Second World Wars.
However, here are five facts about this imperious structure that you probably weren't aware of: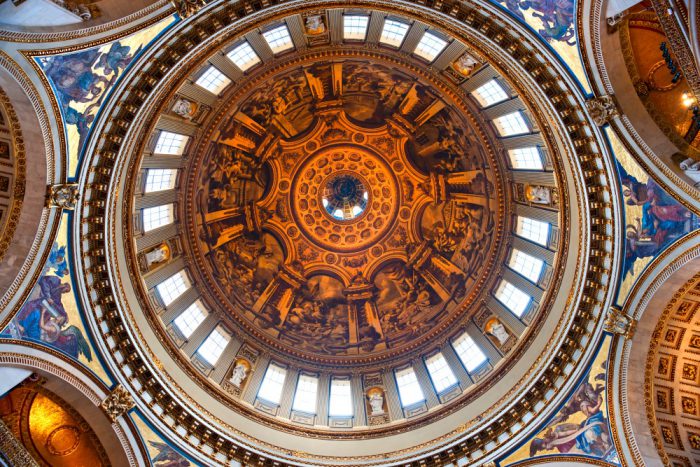 1. The Whispering Gallery
Climb 259 steps up the dome and you will uncover the extraordinary Whispering Gallery, which runs around the Dome's interior. It was designated 'the Whispering Gallery' because a whisper against its walls can be heard on the opposite side of the wall, due to its idiosyncratic construction.
2. An execution
In 1606, four gunpowder plotters were executed in St Paul's Churchyard. They were brutally hung, drawn and quartered. This cruel form of torture began with the victims first being hung by the neck but taken from the scaffold while still alive. The entrails and genitals were then removed (drawn), the head cut off and the torso hewn into four quarters (quartered).
3. The Suffragettes
In 1913, suffragettes planted a bomb under the Bishop's throne in the choir, in an effort to bring awareness to their struggle. If it had been successfully detonated, a significant amount of damage could have been done. It may have even potentially started a fire. Fortuitously, the mechanism was faulty and the bomb did not explode.
4. Martin Luther King
In 1964, the world-celebrated human rights activist Martin Luther King spent three days in London during which he made a sermon at St. Paul's Cathedral. He also met with leaders of the peace community before going to Oslo to collect the Nobel Peace Prize. He was escorted by a group of Southern Christian Leadership Conference (SCLC) staff and was also joined by members of his family.
5. Art
Artists such as Rebecca Horn and even Yoko Ono have become involved in the cathedral in recent times. Yoko Ono's art installations have included Morning Beams and River Bed.
Magnificent St Paul's Cathedral arguably possesses a more dramatic and wide-ranging narrative than any other structure in London. The captivating narrative of St Paul's cannot help but enrapture you. Why not delve further into its past and explore this astounding monument for yourself?
---
Latest Posts:
Follow us on Instagram @goldentoursuk!