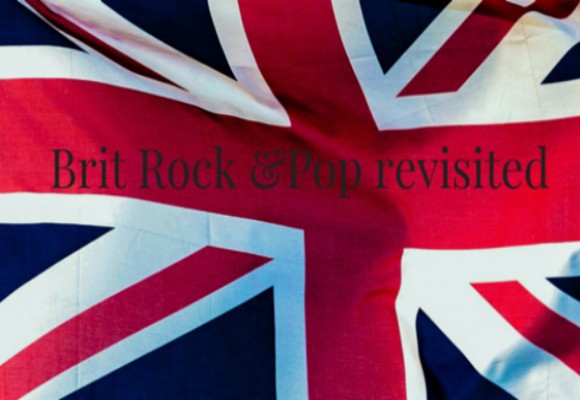 Following the Footsteps of British Musical Royalty
I have been a music fan for as long as I can remember and for some reason, I have always felt more fond of British music. I didn't realize this until a few months ago, when I was compiling a mental list of my favourite singers and bands (while lying in my couch listening to music, of course).
Being a native of Argentina, I have loved living in London for the past year and a half. One of the many perks of being in this wonderful city is just how easy and frequently you get the chance to see the big names of the music industry performing. They don't tend to come down to Latin America that often!
Some weeks ago I was walking down Carnaby Street, imagining how cool it must have been to walk this same street during the 60's. Back then, unknown David Bowie and Marc Bolan used to wander around in search of new clothing for their soon-to-be star wardrobes; between 9 and 10 pm, the retail stores would close their doors and throw away (!) unwanted items in the dust bins.
Due to an incredibly wealthy period, they actually preferred to get rid of faulty shirts or trousers than to fix them. So there they were, Bowie and Bolan, anxiously waiting for the clothes feast to begin. That's how tough life can be for burgeoning musicians.
This is just one anecdote that gets me thinking how lucky I am to be in London, with the chance to visit the very same places my favourite artists performed iconic shows or even where they lived. For any music fan, this is priceless! So, I have curated a short list of defining bands and singers of British music history. The list would be endless but here is just a sample of some British (musical) flavour:
60s    
Rock and Folk: The Beatles and The Rolling Stones
Truly iconic bands of the so called 'Swinging Sixties', The Beatles and Rolling Stones were the boy bands of that era. At the beginning of their career, The Beatles were the neat and posh lads while The Rolling Stones, were the bad boys of the block. These two bands left their mark on a whole generation and everlasting footprints in the global music industry.
Rumor Has It: 'Hey Jude' was written by Paul McCartney supposedly to comfort Julian Lennon, after John Lennon divorced Julian's mother Cynthia.  The original title was 'Hey Jules'.
70s
Psychedelic Rock, Glam Rock and the Punk movement: David Bowie, Marc Bolan, Pink Floyd, The Who, Sex Pistols.
Due to mind altering experiences with drugs and progressive folk from the mid 60s, psychedelic music was born, giving birth to many bands and solo artists. Pink Floyd and The Who were some of those bands, and The Who's rock opera Quadrophenia served as inspiration for the cult movie with the same name.
Marc Bolan is considered the father of Glam Rock, making use of make up and bright coloured clothing along with an ambiguous sexual appearance and attitude. If Bolan was the father, David Bowie was (and is) the prodigal son of Glam Rock and a massive influence for all kinds of musicians, designers and artists to this day.
As The Ramones were for America, The Sex Pistols were the Punk music pioneers in the UK and are, to this day, an incredible influence on music, attitudes and clothing.
Rumor Has It: David Bowie thinks he just got "lucky due to lack of talent" when it comes to fame and his pop icon status – he thinks he should have just been an accountant!
80s
Electro Pop and Rock: Depeche Mode, Queen, The Police
These defining bands were heavily influenced by synthesisers (Depeche Mode) and make up, clothes and great guitars riffs at the same time (The Police). Along with them, so many other British musicians arose with such great success that this decade was musically known as The Second British Invasion in the USA.
Rumor Has It: Freddie Mercury once proudly claimed that Queen's success was purely down to his charisma.
90s
BritPop: The Blur vs Oasis battle
This (for some) cheesy decade was flooded with girl bands, boy bands and REALLY BAGGY clothes. In the UK, the verbal sparring between London and Manchester bands (Blur and Oasis, respectively) was so fierce that Oasis even moved the release of their new song Roll with it to coincide with Blur's new single Country House. Blur achieved the number 1 single that week but many believe the Gallagher brothers ultimately prevailed.
Rumor has it: Noel Gallagher and Damon Albarn are now reconciled and are said to be good friends (they even performed together at The Royal Albert Hall in 2013!).
00s
Pop and Soul Revival: The Verve, Coldplay, Amy Winehouse
Popular music or just pop, developed and mutated into new sub-genres and styles with The Verve and Coldplay on top of their game. During the last years of the decade, the last greatest diva of Modern  British Soul rose to fame to eventually fall and sadly (but predictably) pass away: Amy Winehouse. With an incredible voice and that special "something" that only Stars have, she brought back the good old music of the 60s and we come full circle!
Rumor Has It: Amy was "freaked out" by the increasing success Adele enjoyed and was a great admirer of her. Adele is now thought to be her successor.