Ripley's Believe It or Not! London Discount Now On For One Week Only!
Ripley's Believe It or Not! London Discount Now On For One Week Only!
Ripley's Believe It or Not! is the place where being different is cool, and then it's put on display so everyone can see just how cool it really is. For a limited time only, you can pick up tickets for this eye-popping London attraction with a fantastic 44% off – exclusively on the Golden Tour's website! You have until the 28th July to buy Ripley's Believe It or Not! tickets at this special price, but you can use your tickets any time up to 31st October. What a bargain! In honour of this unbelievable deal, here are five Ripley's Believe It or Not! highlights that make a visit to the Piccadilly Circus venue well worth your time.
Must-See At Ripley's Believe It or Not! 
1. The Olympic Torches
The Legends Gallery boasts the world's largest collection of Olympic Torches from games throughout the years. You'll see a London 2012 torch of course, a symbol of the exciting games hosted in this very city, signed by track cyclist Laura Trott. You can even pretend to be an Olympic medallist on the raised podium – although there might be a few arguments over who comes first, second and third!
2. The Hall of Mirrors
Getting lost is inevitable in the confusing Hall of Mirrors – expect to see people walking tentatively through the winding mirrored maze slowly with their hands stretched out! There is a certain sense of accomplishment when you find the exit, but it's not as easy as it looks!
3. The Shrunken Heads
Yes, you can see genuine Shrunken Heads at Ripley's Believe It or Not! London. The Jivaro tribe of the Andes like to shrink human heads as war trophies, and you can see some examples of these heads and learn about the practice during your visit to the Ripley's museum. This display is a great combination of fascinating and creepy!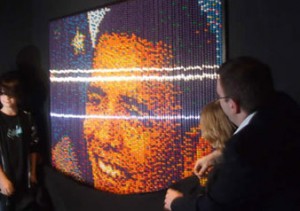 4. The Art Displays
You'll see some famous faces on the walls of the Ripley's Believe It or Not! gallery. However, these images are not created using mundane pencil or paint. A portrait of Barack Obama made using solely the words of his inauguration speech and a separate picture of his wife Michelle from bottle tops are two eye-catching pieces of art on display at the museum.
5. The Laser Race
Ripley's 'Impossible Laserace' pits contestants against a room of sensitive lasers, Mission Impossible style! Beat the clock and dodge the green beams of light as you try to reach the checkpoints and achieve points. See if you can top the daily honours board – you'll see your name displayed in the entrance!
Other things to see and do at Ripley's Believe It or Not! London include the Hall of Mirrors, creepy Dungeon, World's Tallest Man and Cosmic Mysteries! There is an on-site café to sit in and take a break from the museum and you'll also find a gift shop to spend a few pennies in on the way out. Take advantage of this special offer and you'll have more money to spend on the irresistible treats in the shop, but remember you must purchase tickets by 28 July!