Read Time:
6 Minute, 12 Second
The sun may come and go, but ice cream is always a good idea. Londoners love a bit of ice cream regardless of the temperatures – so why not make the most of what is left of summer and treat yourself to a sweet treat or two? Whether you're partial to a good photo op or just need a no-frills dessert in your life, we've put together a list of 10 ice cream parlours in London that you can't go wrong with.
Mamasons Dirty Ice Cream
This very Instagrammable (think millennial pink sofas and banana leaf wallpaper) and relatively new-to-the-scene spot is the capital's very first Filipino ice parlour. Inspired by the ice cream served in the streets of Manila, Mamasons seeks to deliver delicious ice cream in a simple and affordable manner. It's a formula that seems to be working with ease, as there are now two locations (Camden Town and Chinatown). You'll be spoiled for choice with its menu, which includes many original ice cream dishes, doughnuts (if you're curious, Mamasons advises to order these beforehand), milkshakes and much more.
https://www.instagram.com/p/B0qgzHgnOhZ/?utm_source=ig_web_copy_link
https://www.dirtyicecream.co.uk/
Amorino
An oldie but a goodie, Amorino is one of those places that reminds us that when it comes to any kind of food, Italians do it best. These Amorino gelato makers – which have various locations across London – have successfully combined nostalgia for all things traditional and sweet with too-pretty-to-eat, 'do it for the 'gram' works of art. Don't hesitate in treating yourself to one of Amorino's rose-shaped ice creams – they taste as good as they look. But the quirkiness doesn't end there – waffle sticks and gelato burgers are some of the brand's latest creations.
https://www.instagram.com/p/Bz6Nd44IkdY/?utm_source=ig_web_copy_link
https://www.amorino.com/en/index.html
Milk Train
When it comes to branding and having a USP, this gorgeous little location in Covent Garden is not messing around. Originating from Taiwan and unashamedly doing it for the 'grammers, Milk Train's pièce de résistance is its very over the top candy floss ice cream, which begs to be photographed in the venue's train-themed and flower-infused backdrop. Sure, it's ridiculously gimmicky, but a must-try for ice cream lovers who happen to love candy floss and pretty desserts.
https://www.instagram.com/p/BzxkYIGndm4/?utm_source=ig_web_copy_link
https://www.milktraincafe.com/
Udderlicious
An independently run ice cream parlour with locations in Highbury & Islington and Covent Garden, all of Udderlicious's ice cream is freshly made in their cute and cheery stores. Much loved by Londoners, Udderlicious loves interacting with its customers – so much so that every month people can vote for which flavours they would like to see stocked in store for the next month. The prize? A free scoop of the winning flavour every day for a month. What are you waiting for? Cast your vote now!
https://www.instagram.com/p/Bl-EMdIAyma/?utm_source=ig_web_button_share_sheet
https://www.udderlicious.co.uk/
Venchi
With its origins having started in 1878, it's fair to say that Venchi's story goes way back. But while chocolate may have been the first love of this prestigious Italian gourmet chocolate manufacturing company, it's successfully become just as well known for its delicious venturing into gelato. The fact that many of its locations' window displays in London are embellished with ice cream cones says it all – but then again, why choose between ice cream and chocolate when you can have both?
https://www.instagram.com/p/Bx9oXqGo50h/?utm_source=ig_web_copy_link
Snog
Forgive us for cheating with this one, because Snog serves frozen yogurt and not ice cream as such, but same difference, right? A cheeky and colourful Fro-Yo brand, Snog's glitzy hot pink double-decker bus in Southbank and psychedelic spaceship-lookalike venue in Soho are as popular among Londoners as they are among tourists. But pink buses and bright lights aside, Snog's mantra is about treating yourself to some refreshing, delicious fat-free yogurt sweetened with agave nectar in a multitude of flavours and shapes and many a topping – such as strawberries, poppy passion fruit, crunchy granola and gluten free chocolate fudge brownies. We say it's the next best thing (or tasty alternative) to ice cream.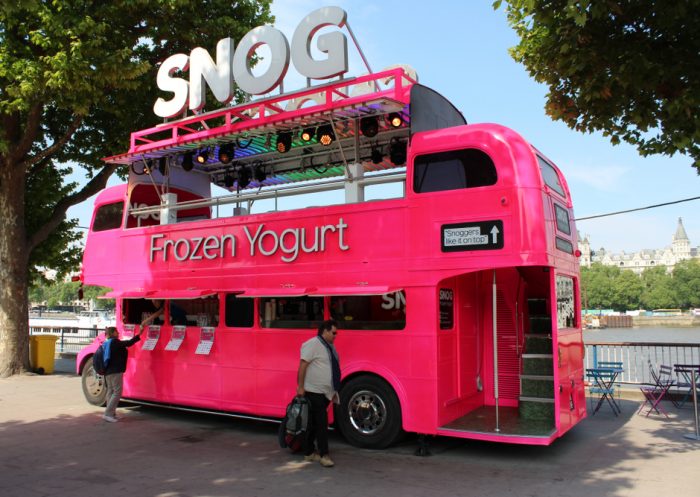 Nonna's Gelato
Because hipsters need ice cream too – but trendiness aside, Nonna's Gelato is definitely worth a try if you're venturing out to Broadway market in Hackney. This family-run business from Highbury is inspired by the founder's 'nonna' (grandmother in Italian) and defines its gelato as a 'British/Italian fusion'. With only seasonal flavours available, the team infuse, pasteurise, age and churn all the brand's batches themselves, breathing authenticity and passion into all of their scoops. If you're tempted to stop by Nonna's stall in Broadway Market, we suggest you try the Fior de Latte, Chocolate and Sicilian Blood Orange Marmalade Sorbet or the Amalfi Lemon and Rosemary.
https://www.instagram.com/p/BuOVJlXHWjd/?utm_source=ig_web_button_share_sheet
Dominique Ansel Bakery
As the name suggests this luxurious bakery – located in Elizabeth Street, one of London's most photographed streets – was founded by one of the world's most successful pastry chefs, Dominique Ansel. With locations all over the world including London's predecessor in Soho, Manhattan, the bakery is known for its infamous, hard-to-get Cronut® (a doughnut and croissant hybrid in case you're confused). But unsurprisingly, the bakery has ventured into the wonderful world of ice cream and created the ridiculously good-looking What-A-Melon Soft Serve, a slice of watermelon filled with a swirl of watermelon soft serve and topped with dark chocolate bits. It's up to you to decide if it tastes as good as it looks.
https://www.instagram.com/p/BzDX8ByD72E/?utm_source=ig_web_button_share_sheet
Miki's Paradise
This charming coffee shop/creperie/smoothie and juice bar nestled in Holloway Road, north London, is most definitely a paradise for those with a relentless sweet tooth. We suggest you go all out – enjoy one of their scrumptious savoury crepes and try to leave space in your stomach for one of Miki's 'freak shakes'. Easy on the eye and unashamedly over the top, these freak shakes are a case of images speaking louder than words – just take a scroll through the coffee shop's Instagram account to see what you'd be up against. Not brave enough? Not to worry – Miki serves some good old Italian gelato too.
https://www.instagram.com/p/ByM41l_HSEA/?utm_source=ig_web_button_share_sheet
https://www.facebook.com/mikisparadise/
Yorica!
Championing sustainability with an infectious dose of peace and love, this delightful venue in Soho is pretty much everything free: dairy-free, gluten-free, nut-free and egg free. And yes, we're still talking ice cream. Vegans love it, but Yorica! is most certainly for everyone – with plenty of cruelty-free ice cream, soft serve, waffles and shakes on offer, it's hard not to love this brand's fresh approach to sweet treats.
https://www.instagram.com/p/ByUzZeslVH7/?utm_source=ig_web_button_share_sheet