Read Time:
4 Minute, 56 Second
Ah, it's soon to be that time of the year… The temperatures feel a little more bearable, the days last longer and many Instagrammers come out to feverishly capture one of London's most popular pink blooms, the cherry blossom.
Although it's the national flower of Japan, this marshmallow-like flower has very much made its mark in the English capital. Here are some of the best places to see cherry blossom in London — cameras optional (but highly recommended)!
Greenwich Park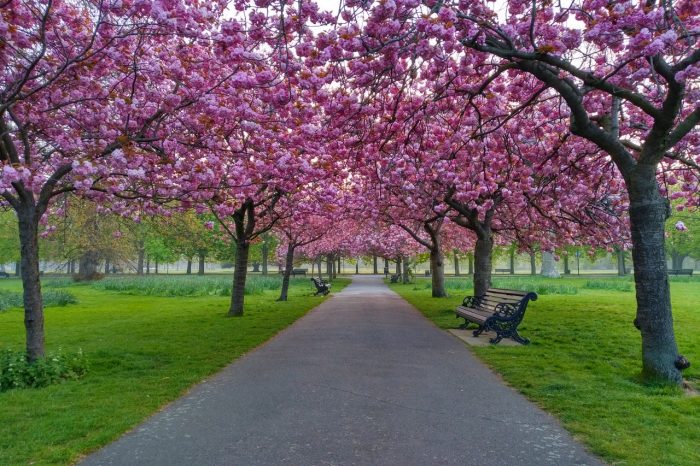 In case the Royal Observatory, Cutty Sark, the Queen's House and the Prime Meridian don't quite cut it, the charming maritime area of Greenwich also boasts a stunning park next to its main attractions. Among many of the park's horticultural landscapes, you'll find a flower garden, a rose garden, and an impressive trail of cherry blossom trees along Blackheath Avenue — the road that runs through the park. But be warned, you are likely to encounter swarms of tourists and bloggers.
How do I get there? If you are decidedly on the hunt for the cherry blossoms of Greenwich Park, Blackheath station is the easiest route to take. Otherwise you can get off at Cutty Sark and enjoy the many must-see landmarks before having a stroll through these picturesque gardens.
St Paul's Cathedral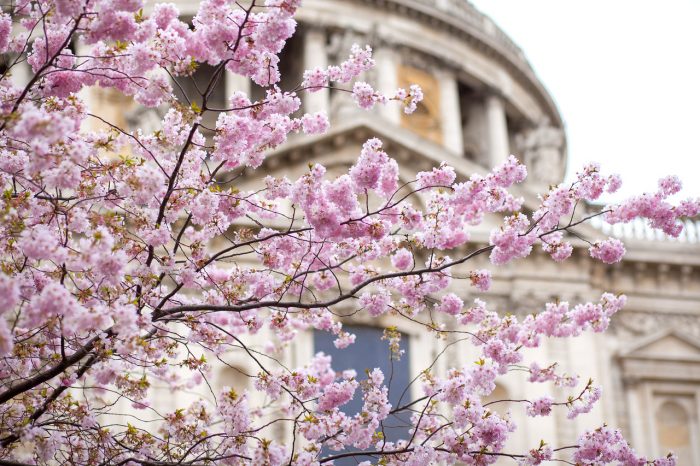 If you're yet to see this spectacular building, what are you waiting for? With a stunning exterior that proudly rules the London skyline and even more striking interiors, it's fair to say St Paul's Cathedral doesn't need much else to impress. And yet in the early months of spring, it feels all the more special thanks to a cherry blossom tree beautifying its surroundings. The candyfloss tones contrast with the grey hues of London's most famous cathedral beautifully. 'Grammers love this spot, as the creative possibilities are endless.
How do I get there? The closest station is St Paul's. Wander around the cathedral and see the cherry blossom tree in all its glory. Jump the queues and purchase your tickets here!
Regent's Park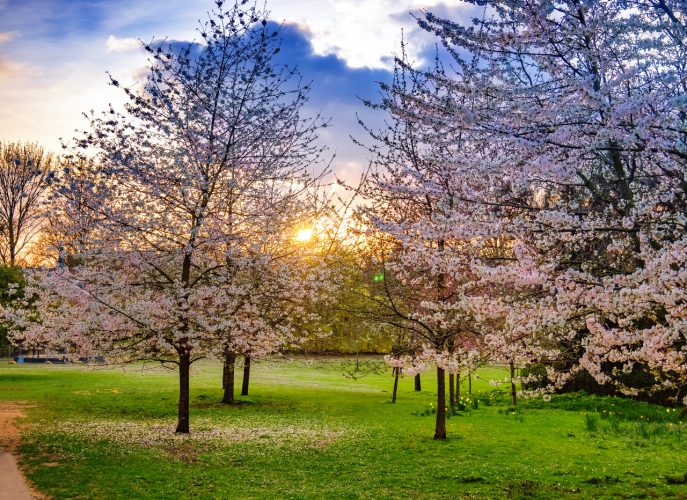 The iconic park in Central London is a beauty of a place, covering 410 acres and featuring lakes, an amphitheatre, secret gardens and a healthy dose of London wildlife. So it's only natural that it ticks the cherry blossom box too — offering both pink and white varieties.
How do I get there? Get off at Regent's Park and look for the Chester Road entrance and the south end of Avenue Gardens.
Swiss Cottage
This is one for the hard-core cherry chasers. The residential area of Swiss Cottage is a peaceful neighbourhood in North West London that's conveniently located near a multitude of places, but doesn't attract visitors per say. It does, however, have a striking trail of white cherry blossom trees right next to the station — it's as easy on the eye as it is unexpected.
How do I get there? Exit out of Swiss Cottage station and walk up for no more than two minutes. You'll come across the pathway inundated by cherry blossom trees.
Tavistock Square
Tavistock Square makes for a very peaceful green area and rather curious setting tucked away in Central London. In this small square you'll find a statue of peace campaigner Mahatma Ghandi, a bust of writer Virginia Woolf (who lived in Tavistock Square), a number of memorials and one single cherry blossom tree. This incredible shrub, which boasts a striking deep shade of pink, dates back to 1967 and stands in memory of the victims of the Hiroshima and Nagasaki atomic bombings.
How do I get there? It's a 5-minute walk from Russell Square station, and 6 minutes from both Euston and Euston Square.
Holland Park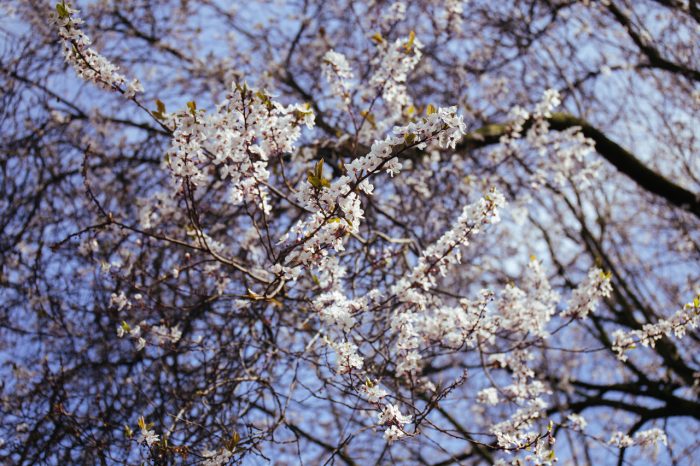 Gutted you can't make it to Japan for all the cherry blossom? You'll always have Holland Park's Kyoto Garden. OK, it's not quite the same as going abroad, but this garden was in fact a gift from the city of Kyoto. So it comes as no surprise that there is cherry blossom aplenty when spring comes about — the waterfall, stone lanterns and peacocks don't hurt either.
How do I get there? It's a 10-minute walk from Holland Park station. Follow the signs within the park that lead to Kyoto Garden.
Kew Gardens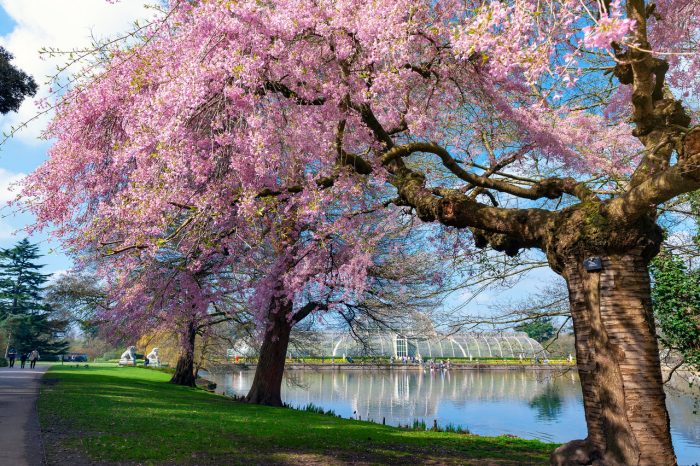 Cherry blossom trees are just one of the things that make Kew Gardens an absolute must-see during the springtime. The enormous botanical garden is a UNESCO World Heritage Site and is home to over 8 million plants. Give yourself the entirety of a day to explore it — you won't be stopping at the cherry blossom.
How do I get there? Get off at Kew overground station — the gardens are a 10-minute walk and very well indicated. If your heart is set to start on those cherry blossoms, you'll find them in the section between King William's Temple and the Temperate House.
Notting Hill and Chelsea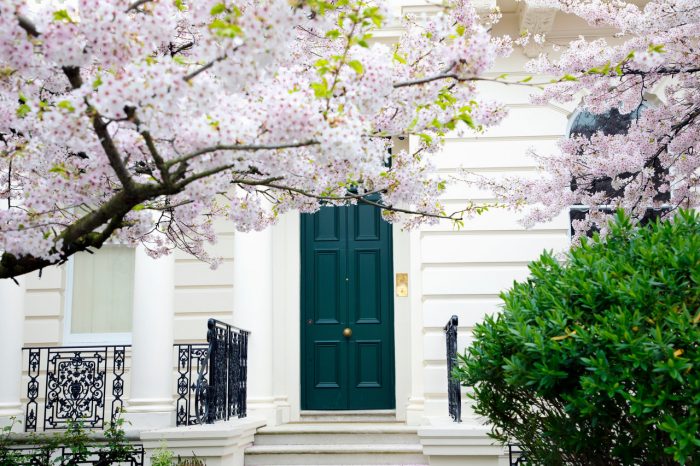 It wouldn't be fair to mention cherry blossom in London without giving a shout-out to the London borough of Chelsea, which in itself is home to the iconic neighbourhood Notting Hill. Full of incredible houses in an array of pastel hues and designs that are reminiscent of another era, Chelsea and Notting Hill look even better in the warmer months. You'll find cherry blossoms spread all over the place and it's really a matter of getting lost and stumbling across beautiful scenery.
How do I get there? Get off at stations like Sloane Square, Gloucester Road, West Brompton, West Kensington and Notting Hill to start exploring! Look for the quieter streets. Some key streets are Blithfield Street, Redcliffe Road, Courtfield Gardens… just bear in mind these are residential areas.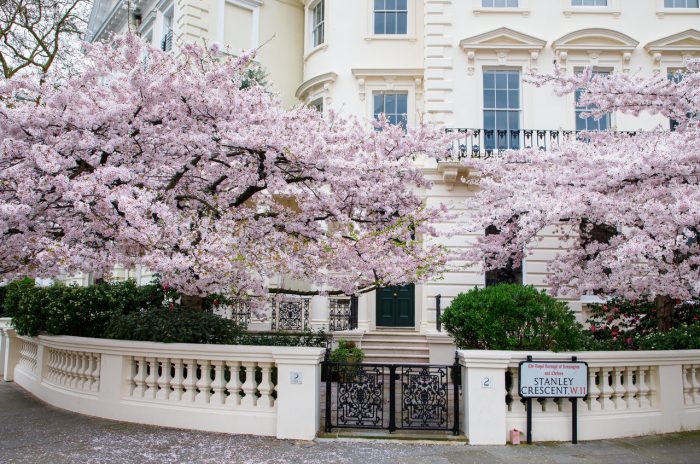 Don't forget to share your magical pictures with us on Instagram @goldentoursuk!
---
Latest Posts: