Read Time:
2 Minute, 50 Second
Britain is world-famous for it's glorious weather. Everyone knows that it's always sunny here and rarely rains… said no-one ever. As the weather can be so changeable, it's vital to have a rainy day plan when you come to London. Luckily, the city has so many things to do when the heavens open!
A Day at the Museums
London is absolutely filled with museums, many of which are free! It's a really fun way to spend a rainy day and you'll learn a lot too. Kids will love the Natural History Museum and there are plenty of interactive exhibits at the Science Museum too. Fashionistas will love the V&A, modern art lovers should head for the Tate Modern, anthropologists should try The British Museum and for more traditional art works, visit Tate Britain or The National Gallery.
If you're looking for something a bit more alternative, why not visit The Cinema Museum, The Magic Circle Museum or perhaps you're interested in secrecy and mystery and want to visit The Library and Museum of Freemasonry.
Visit London's Famous Attractions
The rain doesn't have to stop you from continuing with your sightseeing. Some of the best London attractions are inside, so when the rain starts to pour, it might be a good day to visit Madame Tussauds, the SEA Life Aquarium, the London Dungeons, Warner Bros Studios or even the excellent Shrek Adventure on Southbank.
Pop to the Shops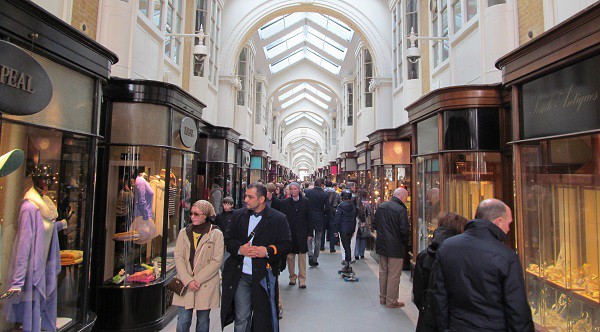 There's no better time to hit the shops than when it rains. Head to Westfield London for a complete indoor shopping experience otherwise Oxford Circus, Bond Street and Regent Street are the places to go. If you're with the kids, Hamleys is on Regent Street is idea. An incredible toy shop with seven floors, it's brimming with all sorts of cool toys and plenty of fun for kids, even if you don't want to buy anything.
Let London Entertain You
For a rainy evening, we suggest heading to the West End for some world-class London theatre. There are around 40 theatres in the West End alone, with plenty more throughout the rest of the city. Here, you can see the longest running show in the world The Mousetrap, an Agatha Christie play that Ms Christie herself predicted would run for 'about eight months'. It's been running continuously since 1952.
If you don't fancy theatre, the city offers comedy, dance, live music and so many more things that can be enjoyed when the rain is pouring.
Enjoy a High-Class Afternoon
Make a rainy afternoon into something indulgent and experience a true British tradition from the comfort of a hotel, museum even a boat on the Thames! A spread of finger sandwiches, scones with cream and jam, dainty cakes and, of course, a pot of tea is a great way to stay warm and dry while the rain does its thing. Check out the best places to have afternoon tea in London.
What's your favourite thing to do when it rains?
Don't forget to tag us in your wet n' wild adventures @goldentoursuk!
---
Latest Posts:
Images from Garry Knight, Neil Howard, Maria Morri, Domenica Prinzivalli, Davide D'Amico and slimmer_jimmer via Flickr.