Read Time:
2 Minute, 9 Second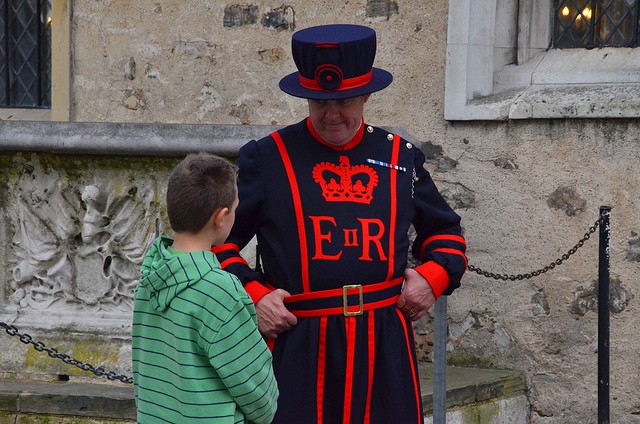 Who are the Beefeaters?
The Yeomen Warders are the face of the Tower of London. Their red-tinged uniforms cause quite a commotion when striding through the grounds of the Tower. Tourists love snapping a photo next to these city ambassadors, but Yeomen Warders have more to do besides looking pretty.
The Yeomen Warders (or 'Beefeaters') were historically responsible for looking after the Crown Jewels and the prisoners of the Tower, but today their role as ceremonial guard is a little more pleasant. If you're wondering why they're affectionately called Beefeaters, take a look at the theories behind the nickname.
The Tower of London is a top place to do some London sightseeing and meeting a Beefeater makes the experience all the more worthwhile! You'll get a better understanding of the 1,000 year old London attraction too.
The First Female Beefeater
The first female Yeoman Warder began her stint at the Tower of London in 2007 – breaking over 500 years of male-only Beefeater history!
Moira Cameron passed all the tests and is now the only woman Beefeater in a group of 37! Though women have never been officially excluded from being a Yeoman Warder, applicants need 22 years continuous service. This has been made easier to achieve in recent years as maternity leave is now included as part of their service.
Other women have applied for the job, but Moira is the only successful lady so far! Take a look at this video about Moira's life at the Tower of London.
Do you think the life of a Beefeater is for you? Here is a list of Beefeater requirements:
At least 22 years of service in His Majesty's Armed Forces.
Awarded the 'Long Service and Good Conduct' medal.
Be passionate about history and enthusiastic when talking to visitors about the Tower.
Have a good memory. Beefeaters learn a 50 minute tour to give to visitors and it includes lots of Tower of London facts!
Love London. Beefeaters live inside the Tower of London with their families – can you imagine ordering a pizza there?
Tower of London tickets can be purchased individually or packaged with other popular London attractions. If a Beefeater career doesn't appeal to you, the Tower of London also has lots of other amazing things to experience. See the Crown Jewels, White Tower and learn about old functions of the fortress – it was once a Royal Mint, palace and zoo!
Don't forget to tag us in your visit @goldentoursuk!
---
Latest Posts: