Read Time:
6 Minute, 32 Second
There's something satisfying about getting something for free and it's even better in London, which can be famously expensive. To save some of your hard-earned cash, we've come up with a pretty amazing list of ideas of all the things you can do in London for free!
1. See Street Performers in Covent Garden
The famous and beautiful Piazza is well-known for the wealth of street performers that gather there, from human statues and floating Yodas to actual circus-like live acts, there is always something going on and it's great fun for the kids!
2. Visit the Abbey Road Crossing
Situated between South Hampstead and Kilburn High Road overground in North London, the zebra crossing is a world famous icon that thousands of people walk across every day!
3. See some Live Music
London is known for its rich musical culture and if you like watching live music, it's usually possible to see a band play for free. Good places to find free live music are Camden Town and the Ain't Nothing But Blues bar in Soho.
4. See the Dinosaurs at Crystal Palace Park
Completely free to enter, walk through Crystal Palace Park and find all 30 statues of dinosaurs created by Benjamin Waterhouse Hawkins in the 1850s. A favourite of Queen Victoria and Prince Albert, the statues are notable today for their historical inaccuracies – as the way dinosaurs looked continues to be a topic of debate!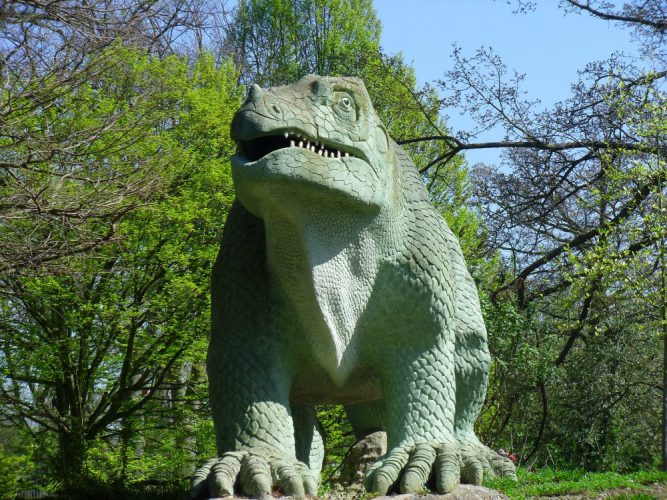 5. Hear Big Ben Chime
The public aren't allowed to enter Big Ben, or the Elizabeth Tower as it's officially called, so the most you can do is take a look and hear the famous chime which happens every hour, on the hour.
6. Watch the Changing of the Guard
One of the most famous things to see in London, and absolutely free! This colourful ceremony doesn't take place every day of the year, so check before you go, and get there early as it's always crowded!
7. Visit a Museum
London is the city of museums and, luckily for us, they are mostly free to visit! Some museums will have special exhibitions that will charge an entry fee but these are optional to visit. Choose to see one of the biggies like the Natural History Museum, the V&A, the Science Museum or the Tate Modern, or try something smaller and stranger like the Wellcome Collection or the Hunterian Museum.
8. Watch Comedy
Fancy a giggle? Visit Angel Comedy for free comedy every night of the week.
9. Visit God's Own Junkyard
Lighten up your life with a visit to Walthamstow's neon heaven God's Own Junkyard. The beautiful creation of the late artist Chris Bracey, the junkyard displays original neon signs alongside incredible collectors pieces and it's totally free to enter! Nearest tube is Walthamstow Central and it's open on Fridays, Saturdays and Sundays.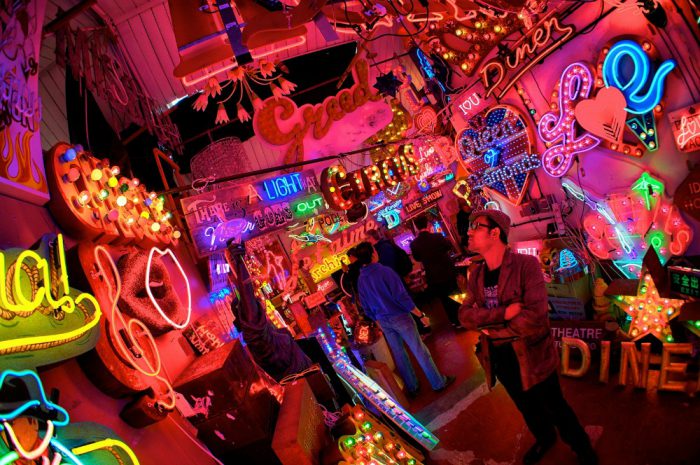 10. See Postman's Park
This special park is featured in the movie Closer and is situated right next to St Paul's Cathedral. It is decorated with dedications to ordinary people who made extraordinary sacrifices that may otherwise have been forgotten, officially called Memorial to Heroic Self Sacrifice by George Frederic Watts'. It has been there since the year 1900.
11. Pay a Visit to a London Market
OK, so we admit, people usually go to markets to buy things. However, there is plenty of fun to be had at London markets if you don't have any money! Borough Market near London Bridge is famous for it's awesome food – there are often people giving away free samples! And Columbia Road Market is famous for fresh flowers – perfect for soaking up the glorious smell and perhaps taking a few impressive Instagrams!
12. Explore a London Park
Parks are free to visit in London and with so many to choose from, there really is something for everyone. From the rolling hills and pretty trees of Hampstead Heath, the incredible views at Primrose Hill or Alexandra Palace, to the peace of Richmond Park and the perfect picnic spots in Regents Park or Hyde Park.
13. UK Residents can tour the Houses of Parliament
If you are a resident of the UK, you can take a tour of the Houses of Parliament for free! This one, however, does need some forward planning – you need to write to your MP to arrange it.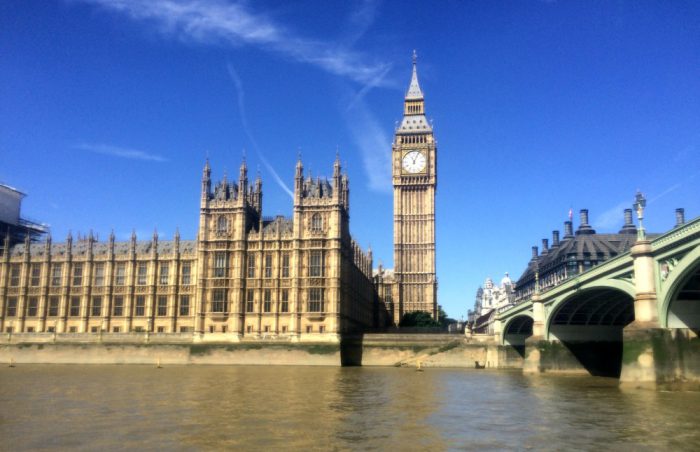 14. Walk Over Millennium Bridge
Take in the gorgeous riverside views on this famous pedestrian bridge.
15. Take Pictures
London is one of the best cities in the world to just wander around and take pictures. With so much gorgeous architecture and breathtaking city scenery, this is a fun and colourful way to explore London while not spending a penny! All you need is a camera and an imaginative eye.
16. Listen at Speaker's Corner
A great way to see the character of the people of London, Speaker's Corner is on the North East edge of Hyde Park. Special in it's status and history as a place for open air speech and debate, it is the most famous location for free speech in the world.
17. See Fallow Deer at Bushy Park
Check out the fallow deer living at Bushy Park and in Richmond Park, there is also an aviary and animal enclosures in Clissold Park.
18. Have a Go at an Open Mic Night
London is a place where new musicians often head to seek their fame and fortune. It's also a great place for any sort of musician to have a go at playing or singing to a crowd at any number of open mic nights across the city. Nights are generally free to perform – some might even throw in a free drink!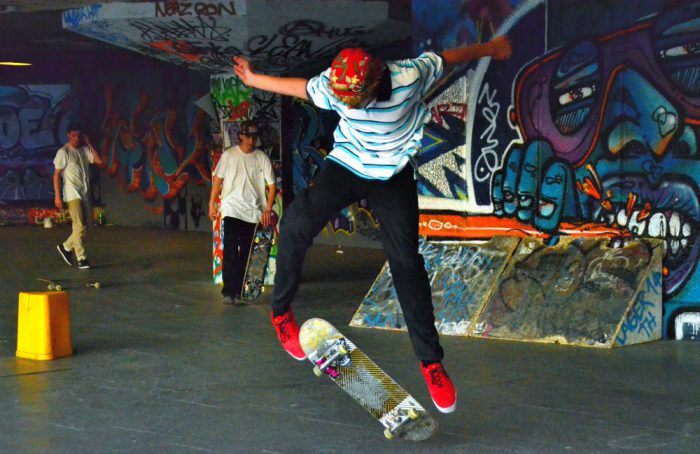 19. Watch some Skating on Southbank
The skate park on Southbank was famously saved from development a few years ago, it's a symbol of the city's freedom of expression and sense of community. Head down to see some cool skating tricks or some incredible street art. It's situated just under the Southbank Centre, facing the River.
20. Browse at Fortnum & Mason or Harrods
You may not want to spend any money, but Fortnum and Mason in Piccadilly or Harrods in Knightsbridge are both amazingly luxurious places to wander through and have a browse!
21. Cycle or Walk Along London's Canals
Renting a bike in London isn't free but it can certainly be very cheap! Read our guide here. Taking a walk (or a cycle) along London's canals is such a peaceful and relaxing experience, we recommend it on a crisp autumn day.
22. Visit a City Farm
Not every city farm is free, but some of them are! Read the run-down here. They're a great place to see animals such as hens, goats and ducks and there are often activities to take part in.
23. Straddle the Greenwich Meridian Line
Stand at 0 degrees longtitude by visiting the Prime Meridian in Greenwich.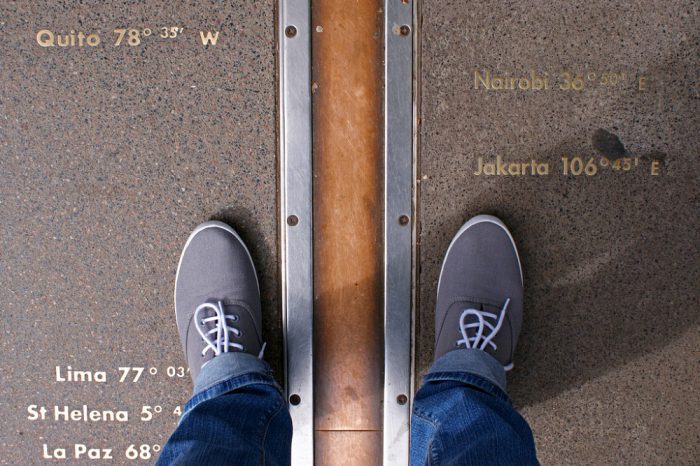 24. See some London Street Art
Taking in the sights of London street art is a completely free and a brilliant way to explore parts of the city that are off the beaten track. Read our short guide here.
25. Take a Walking Tour and Thames Boat Race!
If you buy a ticket to our Hop-on Hop-off Bus Tour of London, you will get a walking tour and a Thames River Boat ride absolutely free! Choose either a Beatles or Royal walking tour and take your boat ride along the Thames to see some of the most beautiful sights of London from the water.
What's your favourite free thing to do in London? Let us know @goldentoursuk!
---
Latest Posts:
Images from Emma Shun, Manhattan Research Inc, Paul Hudson, Angela Logan, Jpellgen and Randi Hausken via Flickr.