Read Time:
3 Minute, 16 Second
On Christmas Day in London, the city can seem eerily quiet as many businesses, restaurants and transport cease operations. Because so many things are closed, planning is key! Read our quick guide to everything that is open on Christmas Day.
London public transport shuts down on Christmas Day, so the only way to travel through London on Christmas day is the Golden Tours hop-on hop-off bus, taxi, car, cycle hire or your own two feet! Even though much of London takes a well-deserved break on Christmas Day, there are still options for people wanting to get out and about. You could take one of our sightseeing tours from London or in London with a delicious 3 course Christmas lunch included. Or if you fancy enjoying Christmas lunch on the River Thames, join our Tour of London with Christmas Day lunch cruise. Find the full range here.
If you're wondering where else is open on Christmas Day in London, take a look at the list of things you can do on December 25.
Open Attractions & Events on Christmas Day in London
Peter Pan Cup – Brave swimmers take to Serpentine Lake in Hyde Park for an annual Christmas Day swimming race that dates back 150 years! The race normally starts at 9am, so get there early to see the first plunge.
Sightseeing & Tours
Hop On Hop Off Plus – The only company to operate hop on hop off open top bus tours of London on Christmas Day!
Golden Tours – London sightseeing tours in and around London visiting Windsor, Stonehenge, Canterbury Cathedral, Salisbury Cathedral and more with a three course traditional Christmas lunch and glass of wine.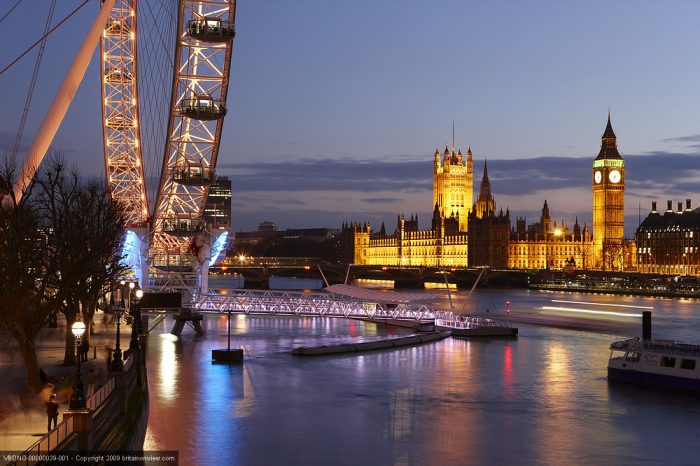 Church Services
Many churches are open on Christmas Day in London for special festive services. Take a look at what some of London's most spectacular churches offer for visitors on December 25 (some Christmas Day services require tickets).
St Paul's Cathedral – Holy Communion (8am), Morning Prayer (8.45am), Sung Eucharist (11am), Festal Evensong (3.15pm)
Westminster Abbey – Holy Communion (8am), Sung Eucharist (10.30am), Evensong (3pm)
St Martin's-in-the-Fields in Trafalgar Square – Holy Communion (8am), Eucharist Service (10.30am), Parish Carol Service (1.30pm).
Places to Eat and Drink on Christmas Day
If you are looking for somewhere to eat or have a drink on Christmas Day, there's a big variety of restaurants and pubs open in London to help you stock up on those festive calories.
Pubs and restaurants that are open will likely have restricted opening hours, so it's worth checking and if you want to eat you should definitely book well in advance.
Here is a list of dining locations that are open for Christmas 2016. Christmas lunch in London need not be traditional!
Hotel Restaurants open on Christmas Day
Cafe Royal, Piccadilly
The Connaught, Mayfair
The Savoy, Strand
York & Albany, Camden
Restaurants Open on Christmas Day
Bella Italia, Italian, Various Locations
Cinnamon Club, Indian, Westminster
Gaby's Deli on Charing Cross Road, Middle Eastern, open from 12 for lunch
Orrery, French, Marylebone
Sofra, Turkish, Various Locations
Strada, Italian, Various Locations
Tayyabs, Indian, Whitechapel
Le Vacherin, French, Chiswick
Pubs Open on Christmas Day (Traditional British Food & Drink)
The Abbeville, Clapham
The Anchor Bankside, Southwark
Audley, Mayfair
The Bull's Head, Barnes
The Canonbury Tavern, Islington
The Flask, Hampstead (12-4pm)
Founders Arms, Southwark (12-5pm)
The Hope Pub, Wandsworth
Horniman at Hays, London Bridge
The Owl and Pussycat, Shoreditch
The Pilot, North Greenwich
The Queens Pub and Dining Room, Crouch End
The Roebuck, Richmond
Spaniard's Inn, Hampstead Heath
Spread Eagle, Camden Town (until 4pm)
The Swan, Hammersmith
Wetherspoon pubs, Various Locations
We hope our list is helpful! The important thing on Christmas Day is to relax, enjoy yourself, eat, drink and be merry!
What are your plans for Christmas Day?