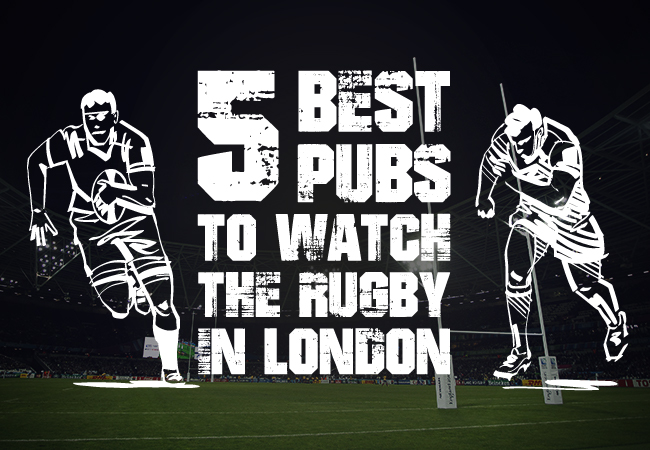 Best Places to Watch the Rugby World Cup in London
It's been an incredible Rugby World Cup so far with Japan being not only fantastic hosts but also incredible players (what about that Scotland game!?). The awkward time difference has meant that most of us have been trying to get through the day without hearing the score and rushing home to watch the highlights, but no more!
Almost all remaining matches are on the weekend so no more sneaking off the loos to listen to the commentary, here are some of London's best pubs to watch the final nail biting matches.
Nestled in a leafy suburban road in Finsbury Park and predominantly hidden by ivy, The Faltering Fullback looks like a typical average boozer, but it's far more than that. Vintage rugby paraphernalia lines the walls and out back is one of the loveliest beer garden's in London, something akin to a giant flowery tree house. They'll be showing the remaining matches on their front and back screens bright and early. They don't take bookings so get there early to grab one of their long communal tables.
Nearest Station: Finsbury Park
This subterranean watering hole will satisfy you on three points; multiple screens to see the match from wherever you're perched, a huge selection of craft beer, and some of the best ribs around. At 8:00am it's possible you may have to wait a bit for the ribs in this cosy vibrant bar in the vaults of the beautiful Hop Exchange, but if you do get peckish pop next door to Borough Market for a plethora of delicious food offerings.
Nearest Station: London Bridge
Nestled in the heart of Dalston next to the iconic Ridley Road Market is The Three Compasses. Another loyal pub opening for our early morning rugby fix, The Three Compasses has a rotating menu of fabulous street food currently serving delectable burgers from the creative duo behind Filthy Buns. This east-end boozer is the perfect place to soak up the atmosphere of a tense game.
Nearest Station: Dalston Kingsland
The Crown and Cushion
An old fashioned drinking hole with Thai restaurant above is the perfect combination for back to back rugby matches. There is undoubtedly something quite surreal about being in a pub at 8:00am (unless you're in an airport then it's completely acceptable) but with the Crown and Cushions laid back living room atmosphere you'll feel right at home. Multiple screens with good viewing angles, decent beer, delicious Thai food and a great atmosphere will keep you there all day.
Nearest Station: Waterloo
This Hackney pub means business. They're opening early and putting on a spread; breakfast, brunch and lunch. No or low alcohol drinks for those that believe 8:00am is too early for a tipple (excuse me?) as well as all the usual craft beer tastiness.
They'll be showing the games on all their screens and if you pre-book a table to eat at The Old Ship during any England game, you'll get a round of Heineken or Heineken 0.0% on the house. There's even a hotel upstairs if the day drinking gets to you.
Nearest Station: Hackney Central