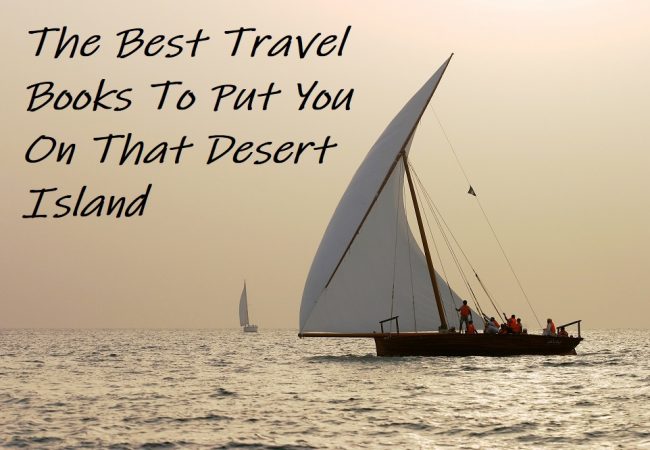 The Best Travel Books To Put You On That Desert Island
Let's face it, even without the current restriction on travel, we spend most of our time thinking about it anyway. What we often forget to find time for is reading. So why not broaden your adventurous horizons with some of the best books to get your mind floating away to distant lands.
The Shark and the Albatross: Travels with a Camera to the Ends of the Earth
John Aitchison
Everyone loves the David Attenborough documentaries, and John Aitchison has worked on five of them, as well as Winter, Spring and Autumnwatch, Hostile Planet with Bear Grylls and Big Cat Diary, to name a few.
The double BAFTA and Emmy award winning wildlife filmmaker and photographer has been documenting the most incredible feats of nature for over 20 years, working on many loved wildlife series, most recently Seven World's, One Planet for the BBC. The Shark and the Albatross is a collection of stories about these far-flung adventures of discovery, animal encounters and the occasional notable human. Each chapter is dedicated to a different location and a different shoot, from filming polar bears in Svalbard to famous wolf families in Yellowstone National Park. Aitchison writes with an accessible factuality, describing the incredible nature he knows he is privileged to see, while occasionally dipping in to the personal, describing the difficulty of missing his children's birthdays. Each chapter ends with an update on the conservation status of the animals he films, and the book features incredible photographs from the shoots.
Suggested by @edstand87
The Summer Book

Tove Jansson
In a world of the ever-popular sci-fi giants and fantasy Queens, and the dominant presence of Scandinavian crime thrillers, it's a relief to rediscover Tove Janssons The Summer Book, published in 1972 and republished in 2003. The Summer Book is one of 10 books Jansson wrote for adults which are grossly underrated due to the global popularity of her other creation, The Moomins.
Jansson was born in Helsinki in 1914 to a sculpture father and an artist mother, growing up in bohemian and creative family, part of a Swedish-speaking Finnish minority. She published her first drawing aged 15 in Garm the liberal and anti-fascist magazine founded by hr mother. The Summer Book focuses on a summer spent between a six-year-old girl called Sophia and her grandmother on a tiny unspoiled island in the Gulf of Finland. Their story distils the essence of summer as the two companions amble about the coastline, Sophia coming to terms with the beginning of her life, and her wise and sometimes cantankerous grandmother with the ending of hers. The Summer Book holds a complete world within in its pages, full of the varied joys and sorrows of life written in a slow and contemplative way, but invigorating nonetheless.
Suggested by @kimberley.ashwell
Slow Boats to China

Gavin Young
One for the old-fashioned adventurers. Bali, Mykonos, Hoi An, all lovely destinations but somewhat adapted in recent years to more Western tastes. Published in 1981, Gavin Young set about on his adventure to travel from Piraeus in Greece, to Canton in China. His journey took him seven months and twenty-three vessels, highly varied in terms of comfort, in an odyssey filled with excitement, adventure and colour. The book vibrantly and humorously recalls the people, places, smells, conversations, ships, and the history of the places encountered in this epic journey.
Gavin Young was a journalist, writer and briefly a member of MI6. An intrepid journeyman, his lust for adventure took him from the Marsh Arabs of Iraq where he stayed for two years, to the mountains of north-east India where he met Naga rebels resisting the Indian government. Slow Boats to China was followed up the also successful Slow Boats Home, equally enthralling as Young writes with a witty nonchalance that will have you deleting Skyscanner and getting out a map.
Suggested by @mywildwanderings
Pocket Atlas of Remote Islands: Fifty Islands I Have Not Visited and Never Will

Judith Schalansky
Judith Schalansky was born in 1980 on the wrong side of the Berlin Wall. The Soviets owned the East and it would be another nine years before anyone could travel anywhere, so Schalansky learnt all she could from her parents battered old atlas. Now an acclaimed novelist and award-winning graphic designer, this book has been a lifelong project, a detailed imaginative atlas of the world's most remote and mysterious places.
Her personal almanac features beautiful, intricate maps on one page and unimaginable stories from the histories of the islands on the other. Schalansky's compilation makes you realise the world is bigger than the end of your road; it expands your mind and instils in the reader a sense of childish excitement at the prospect of the unknown.  Some of these islands are so remote that until the late 1990s more people had set foot on the moon than on Peter I Island in the Antarctic. From St Kilda to Disappointment Island in New Zealand, this book allows to you explore some of the most remote corners of the world, from the comfort of your sofa.
Suggested by @sneha_pradhan
A Cooks Tour

Anthony Bourdain
Do a little research on the late chef Anthony Bourdain and it quickly becomes clear that he was a man whose love of food developed out of a genuine interest in people and storytelling. Bourdain sets out to eat his way around the world, not at Michelin starred restaurants and celebrity haunts, but to Saigon where he eats the still beating heart of a live cobra, and to Portugal where he involves himself in the slaughter of a pig for a medieval feast.
Bourdain writes without pretention, despising frippery and arrogance and proves that swigging Vietnamese moonshine from a plastic bottle came just as naturally as cooking in Manhattan's hottest kitchens. Through anarchic evenings, lots of alcohol and some difficult moments, Bourdain delights readers with his infectious excitement about food as well as the company and ambience in which it is served. The reader is taken on an adventure through the eyes of their stomachs, written in the honest style that make his books and programmes so popular.
Suggested by @leonie_helm