Read Time:
4 Minute, 53 Second
With its rich history, incredibly diverse population, stunning architecture and enduring mystique, London has been the topic of many a book. Romance, horror, mystery, magic, it all happens here. Have a browse of our top books to make you fall in love with London, if you're not already.
Rivers of London, Ben Aaronovitch
The Rivers of London series by Ben Aaronovitch centres around Peter Grant, a cockney 20-something Metropolitan Police officer. Following an unexpected encounter with a ghost, he's recruited into the small branch of the Met that deals with magic and the supernatural. Aaronovitch's intricate knowledge of London and descriptive writing put you right next to Peter as he stalks the streets of London in search of the occult, from Soho to Covent Garden to Kentish Town. There are currently seven in the series as well as a couple of novellas.
Where to Buy: The Covent Garden Waterstones. It's where Aaronovitch worked when he started writing the first book. The antagonist of which is a malevolent spirit of Mr Punch, of Punch and Judy fame. The Punch and Judy show was first performed in Covent Garden in 1662. Look out for the engraving on the wall of the market.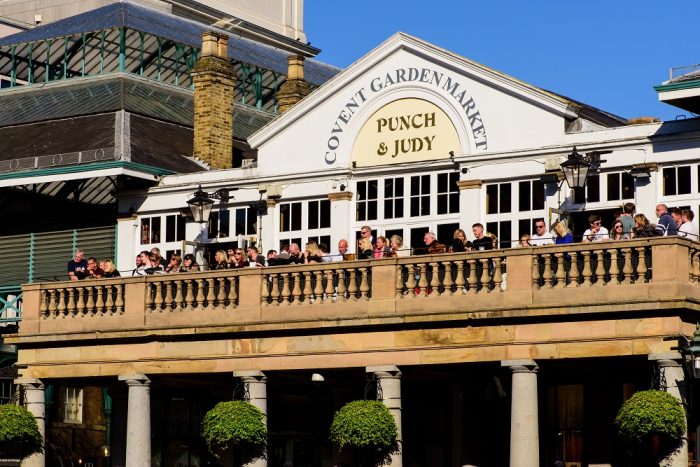 Adrift In Soho, Colin Wilson
Soho has lost a lot of its glamour-noir of the 1950's, 60's and 70's. However, if you know the right people and knock on the right doors, you can often find something or someone of interest. In the summer of 1955, 19-year-old Harry Preston moves to London from a small English village looking for adventure. Unsurprisingly, he wanders into Soho and becomes intertwined with the dishevelled creativity of the Beat Poetry Movement. This Bohemian journey takes you through the streets of Soho, as Harry begins to understand his role in the world.
Where to Buy: Soho Original Books is a Central London landmark in itself. An independent establishment selling books, art and photography upstairs and considerably more exciting things downstairs. Look out for the neon window signs.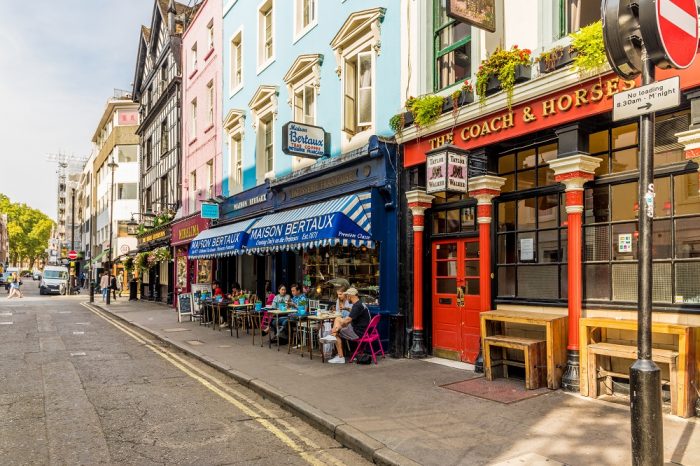 Night Haunts, Sukhdev Sandhu
London after dark has always had a dangerous mystique, which authors and journalists alike have loved to sensationalise. But as modernisation creeps in and people are forced out, has it been rendered as bland and unthreatening as any new town by street lighting and CCTV? Sukhdev Sandhu travels across the city in this nocturnal journey to find the people who work in the shadows. Think security guards, urban fox hunters, pirate DJs and the marine patrol looking for midnight corpses. Sandhu writes beautifully and seeks to recapture the romantic mystery of this great city in an age of whitewashing, mass production and corporate distraction.
Where to Buy: The V&A Museum has an extensive bookshop selling quirky and unique books. It has a late opening every Friday, with the museum closing at 10pm and the bookshop at 9:45pm.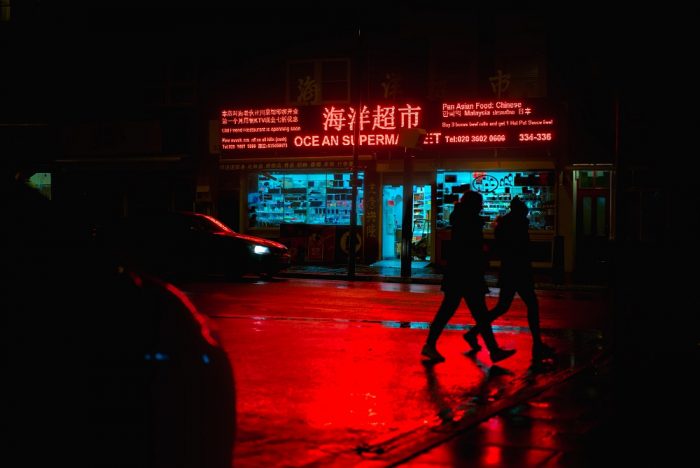 London is a Forest, Paul Wood
Often thought of as an overpopulated concrete jungle, Paul Wood argues that with 8.6 million people squeezed into just 600 square miles alongside 8.3 million trees, London qualifies as an urban jungle. Following a number of trails through London, this book closely examines our beloved urban forest including our relationship and attitude towards it, and its fascinating stories and secrets.
Where to Buy: Daunt Book's feels like an oasis of calm away from Central London's bustling Marylebone High Street. Often spoken of as the most beautiful bookshop in London, the Marylebone branch of Daunt Books has a stunning mezzanine level with tree-like oak panelling, skylights and huge windows.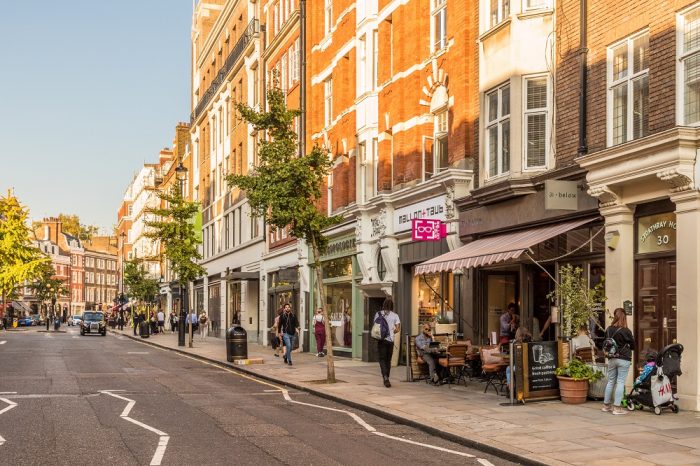 Londoners, Craig Taylor
Diversity is one of London's biggest strengths and sources of intrigue. Londoners brings together a series of interviews with residents in London. From guardsman at Buckingham Palace to a Pakistani trader, explore what it means to be a Londoner and what makes it such a intoxicating place. With over 80 interviews, the book is much like the city itself; magnificently diverse and full of adventure.
Where to Buy: There's no better place to catch a snap shot of London's varied population than Hampstead Heath. This urban oasis is never quiet. In the summer, it's the perfect place for relaxing in the sun with a book and a beer. Stroll off the heath to the independently owned Highgate Bookshop, and explore the lovely pubs and shops in the leafy area.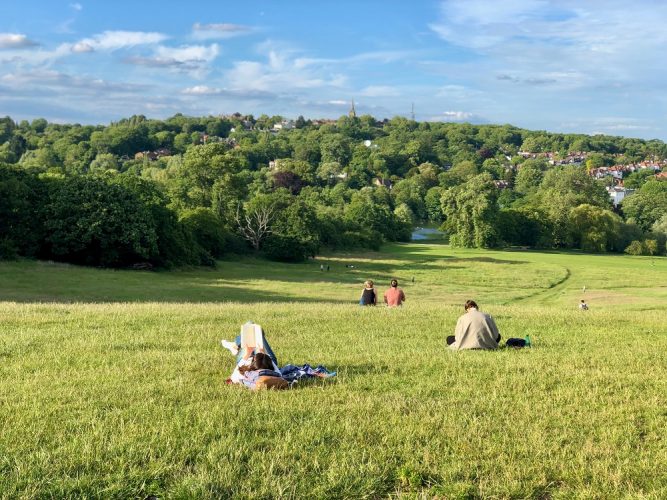 London Belongs To Us, Sarra Manning
Anyone who's been in London for more than a minute knows that spontaneous fun can meet you around any corner. 17-year-old Sunny has always struggled standing up for herself. But, when someone sends her a picture of her boyfriend kissing another girl, what ensues is a mad 12-hour dash around London. Starting at 8pm at Crystal Palace, Sunny races through Camden, Shoreditch, Soho, Kensington and Notting Hill, ending up in Alexandra Palace at 8am. Sunny meets many diverse characters along the way from all corners of London in this love letter to the great city, and the people that make up its life and soul in this ode to staying up all night.
Where to Buy: Just minutes from Putney Bridge, Hurlingham Books claims it's "probably the oldest independent bookshop in SW London". They have over 2 million books and counting between their jam-packed shop and their warehouse down the road. You may not find many modern books here, but you might find a hidden gem in a beautiful bookshop that has provided books as props for films and TV including Poldark, Batman and The Crown.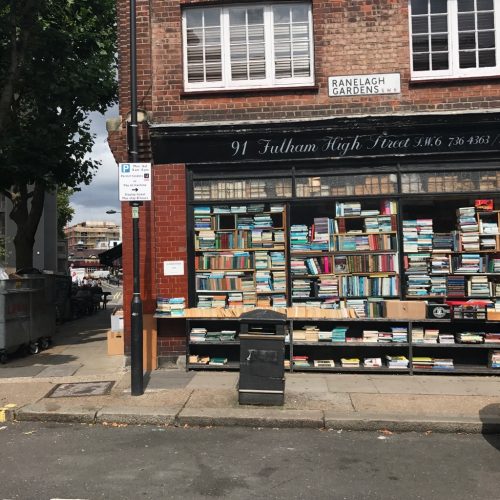 Happy reading!
Don't forget to tag us with your books @goldentoursuk!
---
Latest Posts: