Read Time:
2 Minute, 21 Second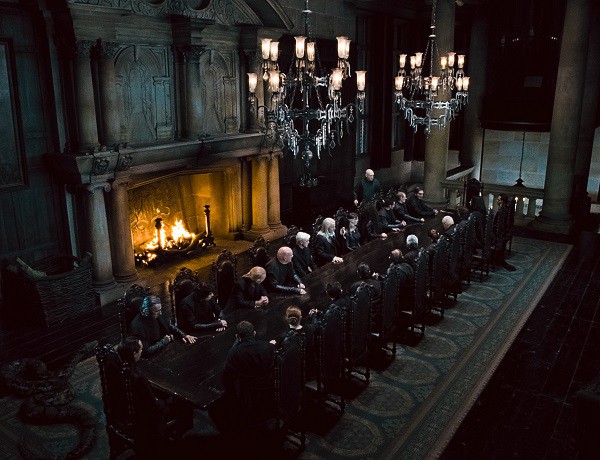 Summer is over, the nights are drawing in and there's a chill in the air at Warner Bros. Studio Tour London. The Dark Arts will descend on the Studios this October and give visitors a taste of the evil magic our favourite characters battled against tirelessly in the Harry Potter film series. A new permanent Dark Arts feature will be installed at the Studios, adding to the already fantastic  wizarding experience! 
New permanent Dark Arts section comes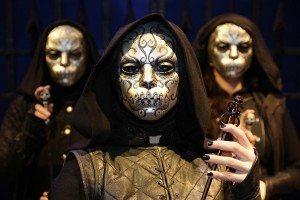 The new Dark Arts section of the tour will showcase the full Malfoy Manor set which was used as the headquarters of Lord Voldemort's scheming followers.
Visitors to Warner Bros. Studio Tour London – The Making of Harry Potter will be able peer into the gloomy drawing room and see the long table (above) around which Bellatrix Lestrange, the Malfoy family, the Death Eaters and Voldemort sat!
The mannequin of captured Muggle Studies teacher Charity Burbage will be suspended above the set and there will also be a life-like model of Nagini the snake on the table! You will also see authentic costumes belonging to Peter Pettigrew and Severus Snape and some props from Dolores Umbridge's Ministry of Magic office, including her slightly creepy kitten plates.
Of course, the rest of the tour will also still be there for you to enjoy, with highlights such as the Great Hall, Dumbledore's Office, Butterbeer, Diagon Alley, The Knight Bus and the incredible Hogwarts model all contributing to one amazing Harry Potter experience. Check out a cool time lapse video of the Hogwarts model construction below:
Halloween  at Warner Bros. Studio Tour London
The dark magic doesn't stop there, because this Halloween there will also be a whole host of deliciously evil bonus events on offer at the Studios. Grab your tickets to see a section of the lavish Halloween feast from Harry Potter and the Philosopher's Stone on display in the Great Hall. Practise your duelling technique during an interactive wand combat lesson and learn some famous Harry Potter spells!
You'll also be able to walk down a darker Diagon Alley as the lights are dimmed, the music becomes more foreboding and Death Eaters lurk in the shadows…
Don't miss out on experiencing the sinister side to the world of Harry Potter this October! You'll get an inside look into the characters we love to hate and see exactly how the Harry Potter films were made at this legendary location. A visit to Warner Bros. Studio Tour London is a completely charming experience for anyone taken in by the story of the boy wizard. Don't forget tickets to the Studios must be booked in advance!
For more spooky experiences, check out our Halloween in London activities!