Where To Watch The Tour De France In London
Where To Watch The Tour De France In London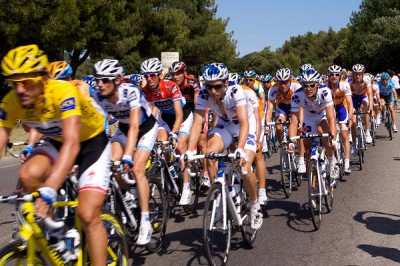 Get ready as the world-famous Tour De France whizzes into London this July! Top cyclists from around the globe will be in a pedalling frenzy for the huge event as their route begins in Yorkshire on 5 July before arriving in London for the third stage on 7 July. The Tour de France is the world's largest annual sporting event and Londoners are gearing up to embrace this fantastic competition with open arms!
The Tour de France is set to be a must-watch event in London and around the world, with over a million spectators expected to line the streets of the capital to catch a glimpse of the riders. There will also be lots to see and do during the race as London hosts French food markets, a Tour de France museum, live music, cinemas, family activities and bike equipment stalls.
Tour de France: the facts
The Tour de France is held every year and last for three weeks, starting at the end of June or beginning of July.
It began in 1903 and originally ran around the perimeter of France and has since extended to other European countries.
The Tour de France always finishes in Paris.
The race covers approximately 2,200 miles and the opening few days of the race is called the Grand Départ.
A worldwide television audience of 3.5 billion people watch the Tour de France annually!
Watch the Tour de France first-hand
If you want to check out the cycling first-hand, the pavements along the route are the best place to do this. The riders are due to enter London via Epping Forest (an area of ancient woodland north of the city) around 3.10pm on 7 July and The Mall is the epic grand finishing straight. Competitors should arrive along this famous road around 3.40pm and if you want to secure a prime spot, make sure you arrive at The Mall early! Take a look at the TfL spectator information page for great advice on where to watch the Tour de France in London and how to get there.
Big screens and family fun at London parks
You have plenty of places in London to watch the race and fan parks featuring fun things to do will be open before and after the event rolls through the city. A number of parks will have huge screens projecting all the action to visitors wanting to chill out, eat and drink and enjoy the buzzing atmosphere. Head down to Green Park, Trafalgar Square or Canary Wharf to join in with the fun – they're free to enter. The parks will keep the celebrations going until the evening, so you can make the most of the day in London!