World Cup 2014 In London: Where To Watch
World Cup 2014 In London: Where To Watch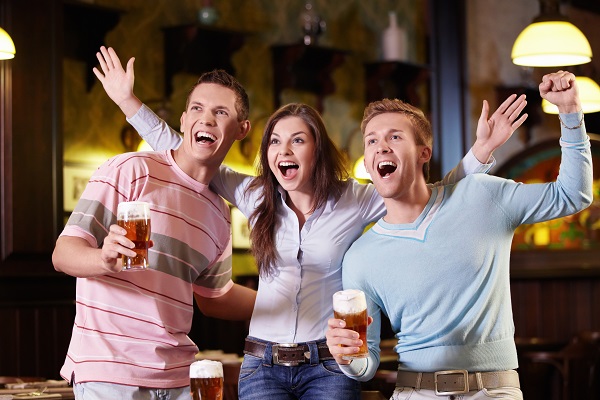 It's nearly time to feel that football fever! The 2014 FIFA World Cup commences on Thursday 12 June and here in London we're welcoming long lazy evenings cheering on our team. Whether you're a footy fan or not, everyone can get involved in the World Cup and get behind their country (if your country didn't qualify, just adopt one for a few weeks!). Although London is a long, long way from sunny Brazil where the matches are taking place, it doesn't mean that the city won't be buzzing with excitement once that first whistle is blown. If you won't be jet-setting to Brazil to watch the games in person, take a look at where you can enjoy the World Cup in jolly old London Town. Most pubs will be screening the games, but take a look at some top picks depending on which part of London takes your fancy.
1.       Carlsberg Sports Bar, Leicester Square
What better place to grab a pint and enjoy the competitive atmosphere than at the Carlsberg Sports Bar? This bar is located in the heart of Soho, London's Leicester Square, and is right in the thick of the action. Boasting state of the art screens, tasty food and cold, crisp beers, this is one venue that's sure to be bustling with people come kick-off. Carlsberg Sports Bar, The Casino At The Empire, 5-6 Leicester Square
2.       Clapham Grand, Clapham
If you like your football matches larger-than-life then the Clapham Grand is the place to be. Boasting the biggest World Cup screens in London, the 1,250 person capacity Clapham Grand has three floors and has recently been renovated with modern, high-tech equipment. The big games are being shown here and you'll be able to watch the players run around the pitch on 40m2 screens for a small fee. Clapham Grand, 21-25 St John's Hill, Clapham Junction
3.       Walkabout Bar, Temple
Aussie bar chain Walkabout is set to show the World Cup matches at its venues. This relaxed and casual bar is serious about creating an amazing atmosphere during the football season. Serving delicious food and drink and staging fun World Cup-related things to do, the party goes on long after the final whistle has been blown. If you're not in London, you'll find Walkabout at various locations across the country too. Walkabout, Temple Station, Temple Place
4.       Whirled Cinema, Brixton
This independent cinema offers movie lovers the chance to see alternative films in an intimate environment. During this year's World Cup (or rather cleverly, Whirled Cup) Whirled Cinema will be showing the games on its big screen and some classic football-themed films throughout the tournament. A bar and BBQ provide nervous spectators with food and drink to keep them going throughout the 90 minutes. Whirled Cinema, 259-26- Hardess Street, Brixton
5.       Brazil Day, Trafalgar Square
It's not a venue where you can watch the World Cup matches, but in celebration of the huge tournament, the Brazilian Embassy is staging Brazil Day in Trafalgar Square on 12 June. Inviting revellers to dress in the Brazilian colours of yellow, blue and green, the embassy promises a carnival atmosphere with live music, DJs, dance lessons, short films and much more. Get involved with football-related fun and games and once you've worked up an appetite, pay a visit to one of the stalls selling authentic Brazilian street food and snacks. Trafalgar Square, Westminster
Enjoy the 2014 World Cup in London and remember to keep the competition friendly – it's just a game! If all this  infectious World Cup excitement has inspired you to enjoy more of the beautiful game, visit the home of football at Wembley Stadium and get a behind the scenes peek at one of the most famous sporting venues of all time.