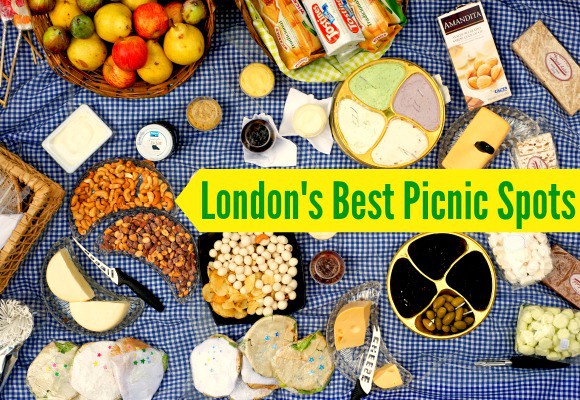 Where's the Best Place in London to Have a Picnic?
We're now slap bang in the middle of summer and it's officially picnic season. We know the weather can be hit or miss in the UK, but when the sun comes out, everyone rushes to any outside space they can find, to enjoy a meal under the blue sky – everything tastes better alfresco. If you're wondering where the best places to go to in London for relaxed outdoor dining, we've got the lowdown on the best London picnic spots, no matter what corner of the city you're staying in.
Central London
Central London is filled with beautiful parks and this area is the easiest place to stop for a picnic in the middle of a day of sightseeing. Picnics are so much fun and much more affordable than eating out, especially in central London which can often be expensive! If you're feeling hungry after a visit to Buckingham Palace, head to the lush and green tranquility of Green Park or St James's Park, situated on either side. These immaculate parks are kept to a regal standard and you'll often see Horse Guards wandering through.
If you're visiting the V&A Museum, The Natural History Museum or The Science Museum, Hyde Park is just a short walk away. This sprawling London park is often a venue for summer concerts, due to it's sheer size. It's also very beautiful and contains Kensington Palace and The Albert Memorial, so you can continue sightseeing after lunch!
If you're shopping on Oxford Street, why not have lunch in Soho Square? A popular lunch spot and a great place to rest your feet during a hot day of retail therapy. After a trip to St Paul's Cathedral, the picturesque Postman's Park is a short walk away – a beautiful open space decorated with memorials to those who sacrificed their lives for others – as featured in the play and film starring Natalie Portman, Closer.
North London
The north side of the city is absolutely bursting with parks, definitely a good place to head for a picnic if you want to get out of the hustle and bustle of the centre. Regent's Park is on the north side of central, is incredibly beautiful and it surrounds London Zoo, so it's the obvious choice if you're spending the day at the zoo. Primrose Hill is also very close by – an affluent area popular with celebrities, the park has breathtaking views of London and is also a short walk from Camden Town – a good place to head after a day at the markets.
If you fancy an outdoor swim with your alfresco lunch, then head to Hampstead Heath ponds. The Ladies and Mens ponds are the only open-air life-guarded swimming facilities that are open to the public every day of the year. Apart from the ponds, the park is sprawling and partially made up of woodland with gorgeous views of the city – a must-see and ideal place for a woodland wander. Honourable mentions also go to Highgate Wood (ancient woodland that has remained largely unchanged since 1886) and Alexandra Palace (more beautiful views, ponds and fallow deer).
East London
If you're heading east, the two main picnicking spots are Victoria Park and London Fields. Victoria Park is the city's oldest purpose built public park and has loads of space for outdoor games as well a multiple picnic blankets. London Fields is a fashionable picnic spot and great because parts of it actually allow barbecues! A rarity for London spaces.
South London
Venturing south of the river, plenty of picnic opportunities are dotted around for a sunny day. If you're visiting the Cutty Sark, drop into Greenwich Park for a relaxing picnic and visit the Royal Observatory and the Prime Meridian while you're there, as both are situated in the park.
If you're visiting Tate Britain, take a short walk along the river for a picnic at Battersea Park, a lovely green space on the Southbank. Another famous place for a picnic is Clapham Common, a vibrant triangular park surrounded with bars and shops in London's bustling area of Clapham.
West London
West of the city is London's largest open green space – Richmond Park. This Royal Park is the largest in London and contains a nature reserve that is home to plenty of wildlife including red and fallow deer – a truly idyllic spot for a picnic on the edge of the city. Perhaps the poshest spot for a picnic, Kew Gardens is certainly a stand-out attraction when it comes to outdoor spaces in London. The Royal Botanic Gardens contains the world's largest collection of living plants and with so much to explore, it makes sense to bring along a picnic and enjoy an alfresco lunch in the middle of your day.
Which is your favourite London Park?
Images from Michell Zappa, JR P, Jolyon Hunter, Matt Churchill, Megan Eaves and Kotomi_ via Flickr.