Read Time:
6 Minute, 40 Second
We know how vital the London Underground is to any visitor coming to London, so we thought we'd revive our tube blog series and share the best bits of every Tube line. This month we're showing you the best places to go on the Jubilee Line — and there's definitely lots to do and see!
The London Underground
Convenient, incredible, unreliable, stressful… there are many ways the London Underground could be described. It's mostly a godsend for visitors, sometimes a nightmare for Londoners — yes, it gets us to where we need to be, but Tube rage is very much a thing. And yet, regardless of rush hour dramas, deep down the regular commuters are grateful for the Tube — a system that's been operating for well over 100 years and carries up to 5 million passengers a day. We'll take its minor (and severe) delays, gaps between the trains and the platforms and weekend closures any day.
Ranging from North West London to South East and East London, the Jubilee Line travels through London's zones 1, 2, 3, 4 and 5. Depending on how much time you've got, you can either get a seven-day fare, a one-day fare or any amount of money put on an Oyster Card — the London Underground's official smart card that also works on buses, trams, the DLR, the London Overground, most TfL Rail, Emirates Air Line and Thames Clippers River Bus services.
Seeing all there is on the Jubilee Line in one day is probably impossible, but if you're up for the challenge have your Oyster Card — or contactless payment card — on the ready and get ready to explore!
North
Wembley Park
Home to the famous Wembley Stadium, Wembley Park has had a huge revamp over the past decade. You can take a tour of the iconic stadium and grab a bite at Wembley's BOXPARK, a conglomerate of counter service restaurants from all over the world.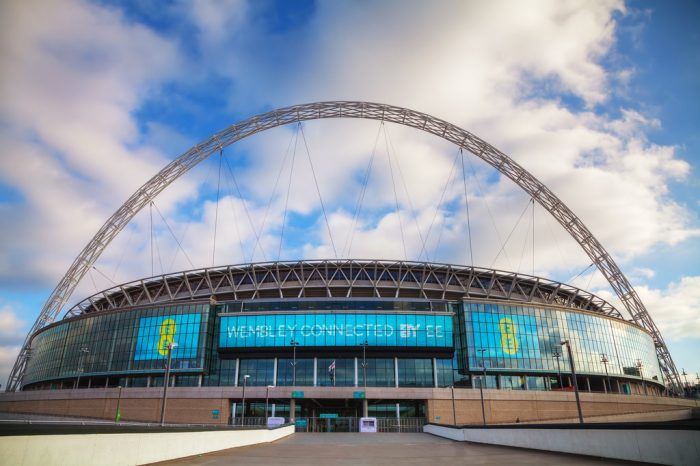 Neasden
There isn't much going on in the sleepy area of Neasden — but a 25-minute walk away from the station is the stunning BAPS Shri Swaminarayan Mandir, or simply Neasden Temple. Opened in 1995, the Swaminarayan Temple was the first traditional Hindu stone temple in Europe, and at one point, the biggest Hindu temple outside of India. It's a fascinating story and a treat for the eyes.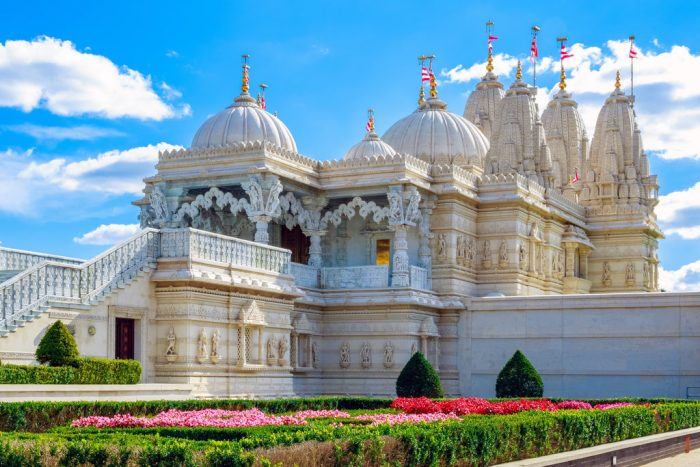 Central
Baker Street
No fictional character has created as much confusion as to whether they were real or not as Sherlock Holmes, the famous detective created by Sir Arthur Conan Doyle. This is possibly due to the fact that Sherlock's very specific home address — 221B Baker Street — is, to some extent, real. It's where you'll find the Sherlock Holmes Museum, as well as a blue plaque commemorating the years that, according to Conan's novels, the much-loved literary character lived at this address.
Baker Street is also home to the world's most famous wax museum, Madame Tussauds. Considering it's been there since 1883, it's fair to say this glitzy venue is a wonderful mix of history and glamour!
If you're after some greenery, the lovely Regent's Park is also a stone's throw away from Baker Street station.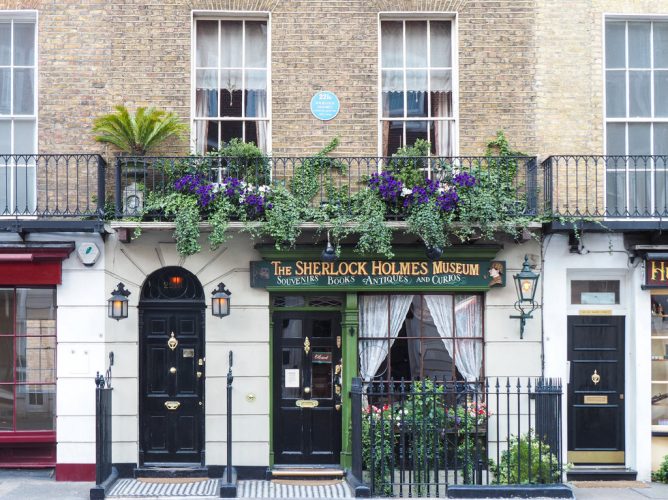 Bond Street
After a high street bargain or planning to treat yourself to something a little more luxurious? You can have whatever you wish if you get off at Bond Street. You'll find luxury department store Selfridges, the affluent South Molton Street (home to Browns, one of London's most established designer fashion shops) and a wide range of high-street stores.
If hunger kicks in you'll be at the doorstep of many restaurants and cafés at St Christopher's Place — less than a 5-minute walk away from Bond Street station.
Green Park
As its name indicates this station is right next to Green Park, which leads to Buckingham Palace. But you'll also find the Royal Academy of Arts and the department store Fortnum & Mason, established back in 1707.
Westminster
Right outside of Westminster Station you'll get to see where all the drama of British politics unfolds. But politics aside, the Houses of Parliament and Big Ben (despite being all covered up in scaffolding for the foreseeable future) are architectural wonders worth seeing.
Next to the heart of British politics is the beautiful Westminster Abbey, which is an absolute vision at night too.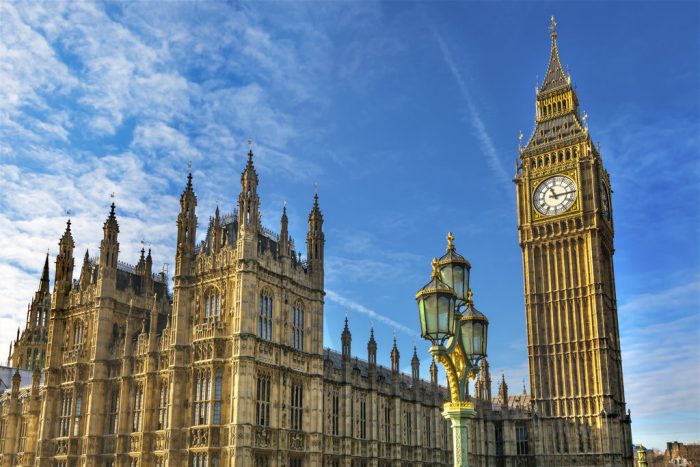 Waterloo
Waterloo really is where it's at. You get fabulous views of the Houses of Parliament and Big Ben and, if you have the stamina for it, can visit a whopping four attractions: The London Eye, Shrek's Adventure, The London Dungeon and SEA Life London Aquarium.
But apart from being the place where one can tick things off their travel checklist, Waterloo is a vibrant area with plenty of cultural happenings. It's home to the prestigious Old Vic Theatre, as well as the National Theatre and Southbank Centre. You'll find quirky places to eat, drink and shop at Gabriel's Wharf and Lower Marsh, an historical and surprisingly peaceful street just a few minutes away from the station. And if you're a fan of street art, visiting the Leake Street tunnel is a must — you'll see hundreds of impressive graffiti and probably many street artists at work.
Or you can simply have a walk by the South Bank (right next to the Thames) and see London's skyline in all its glory — the walk is a winner with both tourists and Londoners.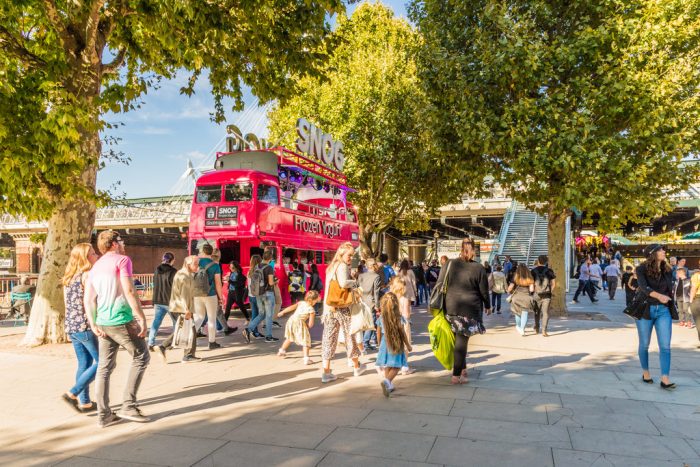 Southwark
You can walk from Waterloo to Southwark along the South Bank. If you're pressed for time and are keen to see the contemporary art gallery Tate Modern, Southwark is the station you need — simply follow the orange lampposts and you'll be there in less than 10 minutes.
Based in the former Bankside Power Station, Tate Modern boasts an impressive viewing level, where you can enjoy both breath-taking 360° views of London and plenty of modern art.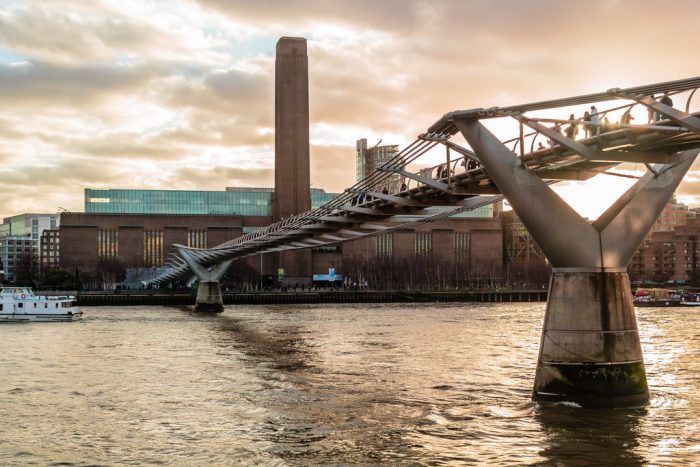 South of the River
London Bridge
Yes, there is indeed a London Bridge when you come outside one of London Bridge Station's many exits – but the Shard is also right next to the station. After something a little more historical? You're an 11-minute walk away from the iconic Tower Bridge. London Bridge is also next to the wonderful Borough Market, one of the oldest and largest food markets in London. If you fancy doing something artsy, visit White Cube Gallery's second venue or the Fashion and Textile Museum.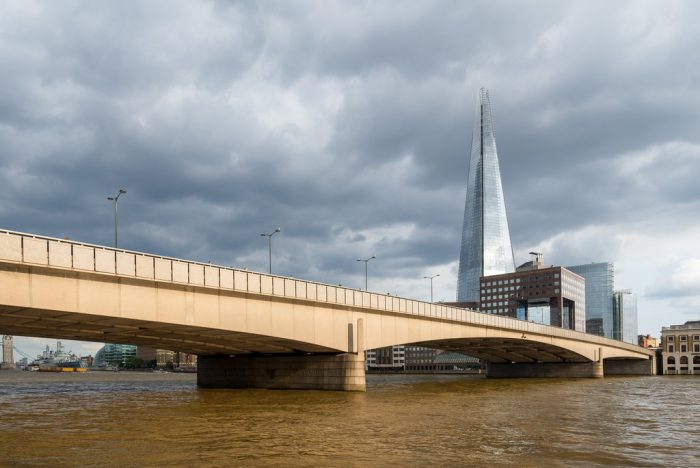 Bermondsey
Food markets, breweries and gin distilleries — it's fair to say that Bermondsey is a thriving hub for foodies, beer and/or gin-thusiasts and all-round culture seekers. Maltby Street Market at the Ropewalk on Saturdays is a firm favourite amongst locals, and you can head to Druid Street and Bermondsey Street for breweries and lots of tasty options respectively.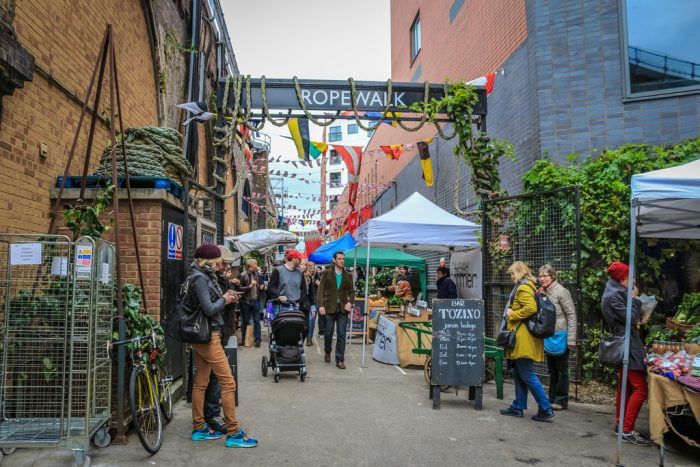 Canary Wharf
Steely and contemporary, Canary Wharf is its own world within London. While it's London's financial district and not exactly a tourist spot, it still makes for an interesting walk thanks to its ultra-stylised high-rise blocks and almost futuristic appearance.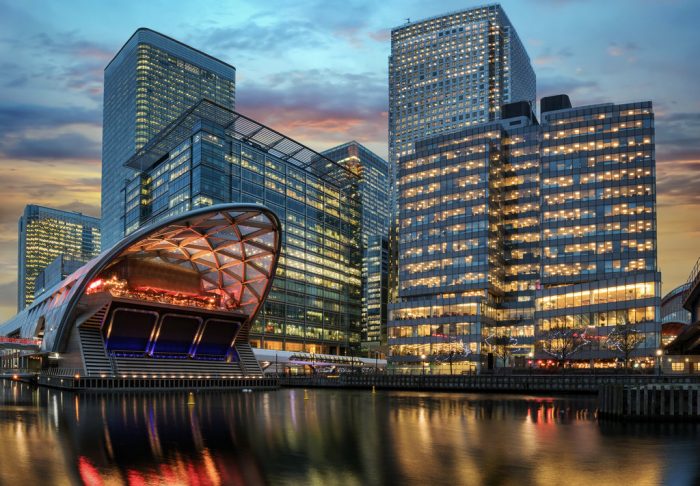 East
Stratford
There's no denying that the East London area of Stratford was once considered a very rough area, but having undergone a huge makeover since the London 2012 Olympics, Stratford has come a long way. One of its main attractions is Queen Elizabeth Park, a sporting complex made for the Olympics that is overlooked by the ArcelorMittal Orbit. This striking observation tower was designed by artist Anish Kapoor and is the UK's biggest piece of public art. It's also where you'll find the world's tallest and longest slide.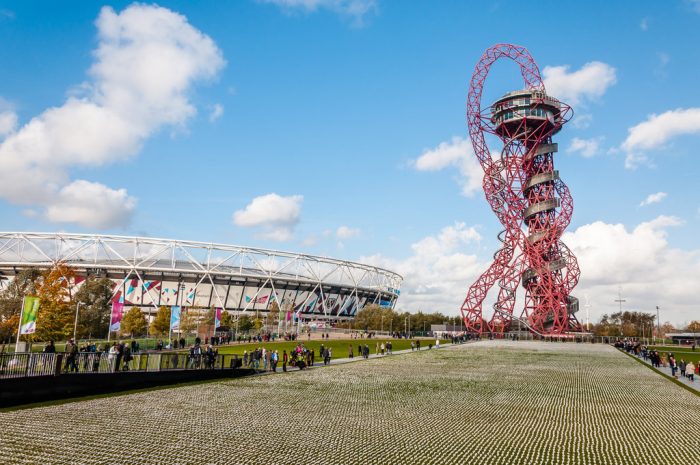 See a map of the Jubilee Line below: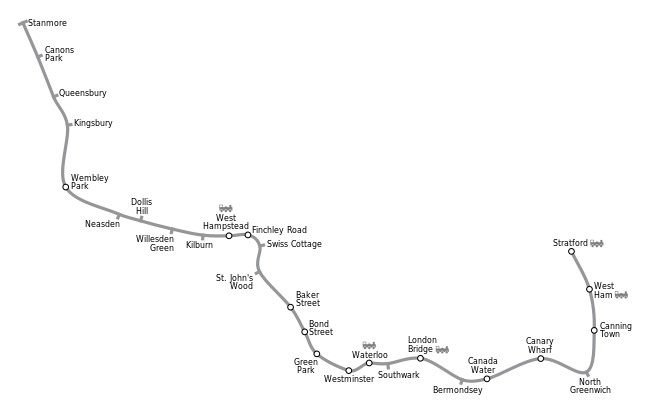 Don't forget to share your Jubilee Line adventures with us on Instagram @goldentoursuk!
---
Latest Posts: